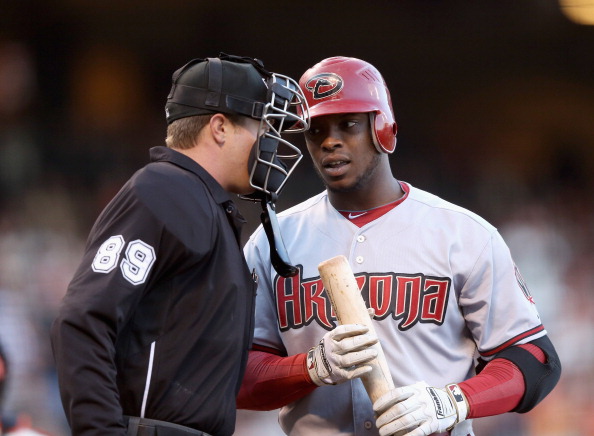 When it comes to writing about the off-season needs of the Phillies, I like to keep things as grounded as possible and steeped in a healthy amount of realism. Meaning that, while the occasional "Will Ryan Madson Return?" post pops up, the majority of these are going to be about the likes of Kevin Youkilis or Eric Chavez -- guys that the Phillies actually have a chance at bringing into the fold.
And while the subject of this post -- Justin Upton -- is unlikely to be in red pinstripes any time soon, I thought it fitting to address the trade rumors that are again swirling about.
Justin Upton, the younger brother of B.J. -- who himself has a chance of being a Phillie next season -- is currently the right-fielder for the Arizona Diamondbacks, and is one of the more dynamic players in the game. In six seasons, he hit .278/.357/.475, and is averaging 24 homers, 33 doubles and 18 stolen bases per season.
While most think that he hasn't reached his full potential, the D'Backs have long been rumored to be open to trading the 24-year-old slugger. So far, those rumors have yet to materialize, but with the Winter Meetings going on this week, it seems that, once again, Justin Upton could be on the move.
The question is: could the Phillies trade for him?
Technically, yes. But realistically, no, they cannot. The D'Backs are said to want at least two Major League ready bodies in return, and thanks to some of the more misguided trades the Phillies have made in the past, their farm system is depleted of any playable chips. And at the Major League level, the only player that would serve to be of interest to any team is Domonic Brown, and it's safe to say that he's not getting moved at this point.
If Ruben Amaro Jr. could pull this off, Upton would solve a ton of problems. He's right-handed, he plays right field, he's young, and he's fairly cheap and under team control until after 2015. He'd fit right into the lineup and would serve to be part of the new core of Phillies for the next decade.
Sadly, this is all just a pipe dream. Whatever chance the Phillies have at Upton pales in comparison to the chance that other teams have, simply because of the non-strength of the Phils' farm system. If the Phillies could put together a competitive trade package, you can be sure that the Texas Rangers would be able to top it with very little effort.
And as cool as it would be to have the Brothers Upton patrolling the outfield in 2013, that dream scenario will have to wait.