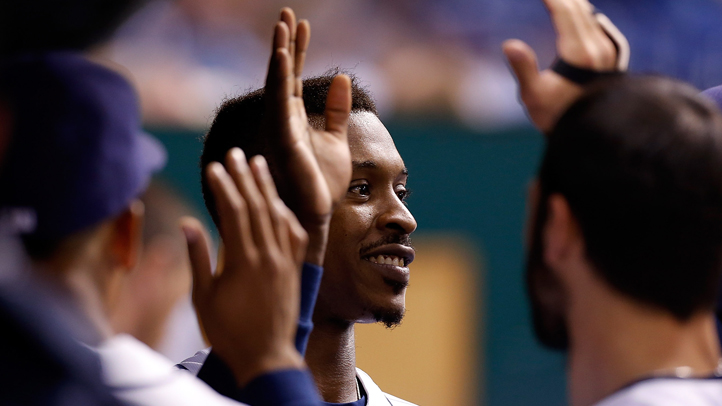 The baseball off-season just started, but the Phillies are already knee-deep in it, as they look to fill out their roster for 2013. And according to CBSSports.com's Jon Heyman, they are hot on the trails of center fielder B.J. Upton, a free agent after spending his entire career with the Tampa Bay Rays.

Upton, better known as the outfielder the Phillies should have traded for in 2011 (I still stand firm on the fact that they didn't need to trade for anyone that season), has long been a favorite of mine. Despite not having traditionally great offensive numbers – he strikes out a lot and has a career on-base percentage of .336 – he is nonetheless a very interesting option for the Phillies.

He can hit for power (28 homers last season, career average of 20), he has good speed (at least 30 SB a year since 2008), and he plays great defense in center. And even though he might not be as rounded as, say, Jayson Werth, the fact remains that he will be all of 28-years-old next season, and if there is one thing the Phillies need, it's youth.

Plus, he figures to be much cheaper than the likes of Josh Hamilton (who the Phillies should avoid like the plague, if the plague was really injury prone) or Michael Bourn (who we found out wants over $100MM). He might not be a bargain basement buy at six or seven million a year, but at his age, the cost-benefit figures to be in the Phillies favor, even in the later years of the deal.

The one thing that should give the Phillies pause, however, is that the Rays offered him a qualifying contract on Friday afternoon, meaning that the Phillies would lose their first round draft pick next season if they were to sign him. Even though the MLB draft is a crap shoot, the Phillies need to consider the implications of a deal if it prevents them from not having a pick in the first round.

It's a long off-season, so no conclusions should be jumped to at this point. Ruben Amaro has plenty free agent options to fill the void in center, and even though the Phillies appear to be the front-runner for Upton, a lot can change over the course of a winter.