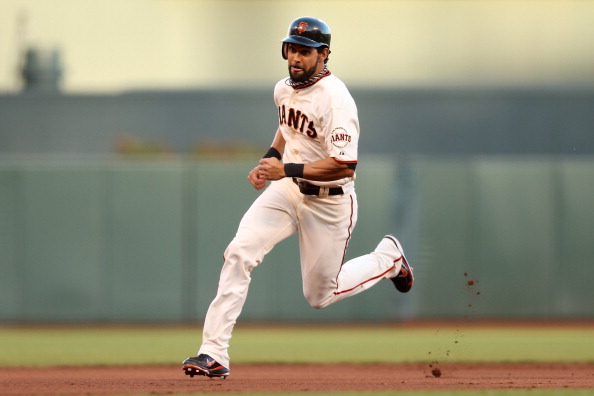 It sounds silly, but Angel Pagan the best free agent outfielder on the market. It sounds silly, especially in a free agent class that consists of Josh Hamilton, B.J. Upton, and Nick Swisher, but it might be true. While Pagan's numbers don't pop off the page, and while he isn't a terribly dominant hitter, he might have a leg up on everyone else.

The reason? Value. While Hamilton is going to command more than anyone on the market (woe is the G.M. who gives him $20MM over seven years), Pagan may very well have the most suitors, and for good reason.

The 30-year-old, who came up with the Chicago Cubs, spent most of his career with the New York Mets, and won a world series this year with the San Francisco Giants, is a good enough hitter, fielder, and baserunner to make a difference on any ballclub, but his strength lies in the fact that he'll command less on the market than anyone else.

For his career, the switch-hitting Pagan owns a .281/.333/.424 line, and since he became a full time player in 2010, he's averaged 31 doubles, nine triples, nine homers and 33 stolen bases a year to go along with very good defense in center.

He isn't necessarily an All Star, but that really doesn't matter if he is earning significantly less than the next guy – especially if the next guy is going to command a salary north of $12MM. And, to boot, the Giants did not make him a qualifying offer, meaning that the team that signs him would not need to give up their first round draft pick next season.

As far as the risks go, Pagan doesn't have many. He's 30, which is young enough that he shouldn't decline any time soon, but word has it that he is seeking a four-year deal. That isn't necessarily a bad thing given the cost, but the last thing a team wants to do is overextend itself for a light-hitting outfielder.

He's not the perfect player, and there are certainly better offensive options on the market, but given the cost and his total contributions, he is certainly worth taking a look at.