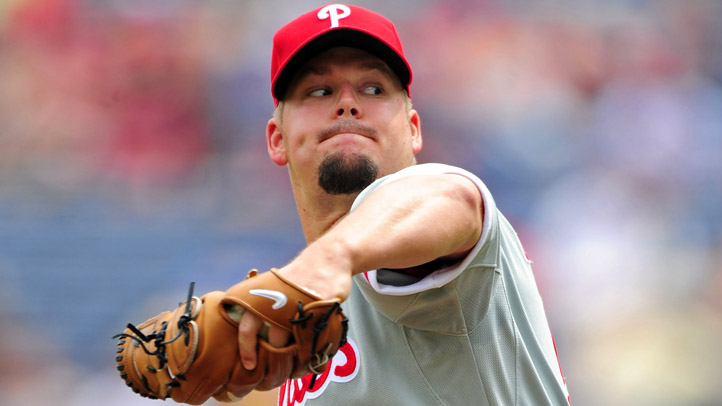 The trade deadline came and went on Tuesday afternoon, and just like in previous years, the Philadelphia Phillies were one of the most active teams. However, unlike previous years, they weren't buying.

Instead of acquiring that one special piece that would get them over the top in the playoffs, they opted to trade away two of the players who were expected to be the heart of their offense. As of 4 p.m. on July 31, both Shane Victorino and Hunter Pence were property of another team.

As we wrote earlier today, the Phillies did a decent enough job at the deadline, considering what they had to work with.

And just because it's August doesn't mean that the Phillies still can't make some moves to rebuild for 2013. It just gets harder. In order to make a trade in the month of August, players still need to pass through waivers, which is a semi-complicated process that requires a few things to go right in order to make a trade.

But, it happens. In fact, both Jamie Moyer and Matt Stairs were waiver-wire trades, so it is entirely possible that some more bodies can get moved over the next month. But who? Let's take a look.

Joe Blanton – It was a little bit surprising when Joe Blanton was not traded on Tuesday, considering that the Baltimore Orioles were interested in his services right up until the wire. It is unlikely that anyone claims him when he is inevitably put on waivers, which means he can be traded to anyone who is in need of a starter. Expect Baltimore to still be interested in his services.

Placido Polanco – Like Blanton, trading Polly should have been a slam dunk...right up until he injured his back last week. While Polanco doesn't offer a lot with the bat, he plays a mean third base, and he should provide adequate offense off the bench or at the bottom of the lineup.

Juan Pierre – When you get down to it, Pierre should have been the easiest guy on the team to trade, because he's cheap and he is playing well. Teams also love speedy, lead-off types who can pinch run late in a playoff game. As of Tuesday, teams like the Cincinnati Reds had interest, but nothing got done. But, like Matt Stairs in 2008, I wouldn't be surprised if some team comes calling for Juan before the end of the month.

Cliff Lee – There was a lot of chatter about Cliff Lee over the last few weeks, as Ruben Amaro was rumored to have been shopping the Ace around, as a way to simultaneously restock the farm system while receiving some salary relief, so that he may have additional financial flexibility in the off-season. It still remains a long shot, but since no one is likely to claim Cliff Lee (and his remaining salary), he will easily pass through waivers and become available to teams via trade. Does that mean he goes? No, of course not, but if some team out there wants to bolster their rotation for the playoffs and for the foreseeable future, they could be motivated to sell the farm.

Roy Halladay – While everyone was talking about Cliff Lee getting traded last week, my question was "why not Roy Halladay?" After all, Roy is owed less money per year than Cliff, plus he has one more guaranteed year left on his contract, along with an option for 2014 that is not likely to vest. For that reason, teams that could trade for Roy Halladay would likely only be taking on his salary for one more year. There are questions about his health and his performance at age 35, plus he does have some no-trade protection, but if the Phillies want to shed some payroll, then Doc might be an answer.

Are any of these possible? Oh, sure. I'd say that there is a better than average chance that Blanton and Pierre get moved elsewhere before the end of the month, for sure. Cliff and Doc? Eh, that's tricky. It's possible, but wildly unlikely that either one of them get moved this season. But after the season? Well, we will just have to wait and see.