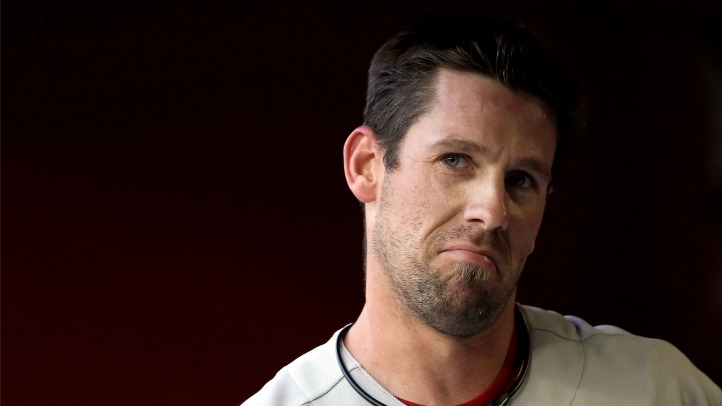 I talked about this a bit last week, but it bears repeating: It's all downhill (or uphill, depending on how you like your clichés) for the Phillies at this point.
With their May gauntlet in the books -- a 20-game stretch where they faced off against the Braves, Cardinals, Marlins, Rangers and Reds in what was thought by many to be the true test of this team's aptitude -- the Phillies are still riding high, with a three-game lead in the division and a MLB best 34-20 record.
Their much-ballyhooed stretch of games against some tough competition left our heroes battered and bruised, but no worse for the wear. With Chase Utley back in the lineup and Domonic Brown starting to come around, the offense has come to life as of late, and it's looking to be a whole lot of gravy over the next few weeks.
The Inqy's Bob Brookover has more:
Add the fact that the Phillies have hit a soft spot in their schedule and Manuel's team may finally be able to put some distance between itself and the other teams in the division. Starting with their just-completed series in New York, the Phillies are in the midst of playing 16 straight games against teams with losing records.

By contrast, the second-place Florida Marlins started a string of 24 straight games against teams with winning records Monday night against the resurgent Arizona Diamondbacks. The Marlins are also dealing with injuries to staff ace Josh Johnson and star shortstop Hanley Ramirez.
Those soft spots he is referring to are the Washington Nationals (22-31), Pittsburgh Pirates (24-28), Los Angeles Dodgers (25-30), Chicago Cubs (23-29), Florida Marlins (30-22) and Seattle Mariners (27-26). It's a 20-game stretch against some less-than-stellar competition, and with the exception of the Marlins, the Phils aren't going to be tested too much.
Assuming these teams are going to be pushovers is a fool's errand, and there is no upside to looking at a stretch like this as a walk in the park, but the Phillies can do themselves quite a solid by taking care of the detritus in their quest to win the division for the fifth straight year.
It's rare that a team can create a gap in June that cannot be closed in September, and if the Phillies' offense has told us anything so far, it's that they are prone to blackouts like anyone else, so going after the low hanging fruit now can go a long way the rest of the season.