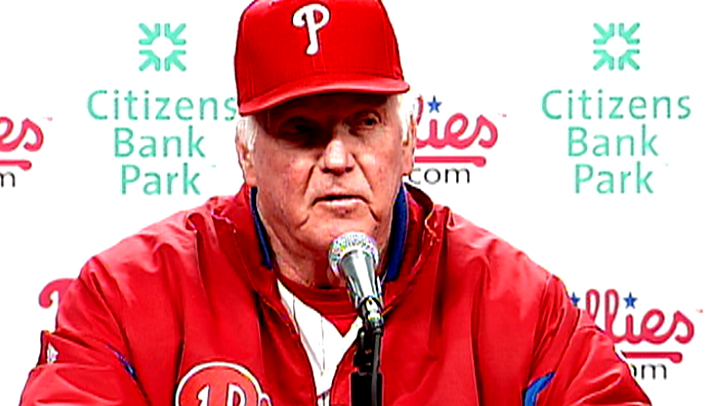 On Sunday afternoon, following the Phillies 3-0 victory to complete the four game sweep of the San Diego Padres, it was announced that closing pitcher Jose Contreras would be heading to the disabled list to deal with an injury in his right elbow, which prompted some to speculate on whether or not Charlie Manuel was overusing his right-hander – namely, his general manager.

From Matt Gelb:
Standing in the manager's office at Petco Park on Sunday, Ruben Amaro Jr. briefed reporters on Jose Contreras' strained elbow that forced him to the disabled list.
"He had been pitching quite a bit," Amaro said of the 39-year-old Contreras.
He continued: "I think it was just the work that he's done. He didn't indicate it was one pitch, just over time, especially after his outing on Thursday.
Amaro was referring to the recent workload for Jose Contreras, who threw 81 pitches over five appearances in seven days before essentially being shut down after his save on April 21st in San Diego. At first glance, that isn't a tremendous workload for a relief pitcher, but given the fact that Contreras is older than most pitchers – he is listed at 39, the reality is that non-American born players are actually older than they let on – which might just mean that The Big Truck doesn't have as much gas in the tank as we think.

Manuel seemed to take exception to Amaro's comments, and did not hold back when speaking to reporters on Monday:
Q: Did you feel like you had the personnel to be able to stay away from Contreras?

A: Do I feel like I had the personnel? I feel like, first of all, that there's no way in hell we overused Contreras. That's how I feel. There's no way. What did he pitch? The most games was three. Then he had a day off. He pitched five times in seven days. We weren't trying to stay away from him. He was closing games for us. That's how I look at it.
Understandably, Chuck is a bit peeved that his General Manager is essentially micromanaging his efforts and playing the role of Monday morning quarterback. After all, he is around the players more than Amaro, and he should have a greater grasp on what they can and cannot do and when they are or are not overworked.
Amaro would later clarify his comments, but the point stands. The fact that it's only April and that there is talk about overuse and wearing down is more than a little disconcerting. The fact that Charlie has a thinner bullpen due to an injury that may or may not be caused to excessive work on the heels on a series in which he ran both Hamels and Halladay out for 100 plus pitches in the past week has caused some to question his judgment in how he is using the pitchers in the early season. Granted, both Hamels and Halladay – and Lee and Oswalt, for that matter – are veterans that know how to deal with the grind over the long season, but it doesn't necessarily mean that Charlie should be less judicious in how he spends his bullets in April.
However, the greater implication is that, with Contreras on the shelf and not much else in the 'pen except for Ryan Madson (and possibly Antonio Bastardo and, fingers crossed, Michael Stutes), the starters are going to continue to be tested with long outings – especially if the offense doesn't start scoring more than three runs a game.
While I am not one for the rigidity of pitch counts and babying pitchers, I am all for not blowing and exhausting your multi-million dollar investments before the All Star Break at the risk of a couple of complete games because you can't trust two-thirds of your bullpen.
Despite the Phillies holding serve in the National League East with a 15-7 record, there is an unsettling notion that, unless the bats can recapture the magic that they had in the first week of the season, Charlie is going to be questioned more than a few times about the workload he is handing to his players.