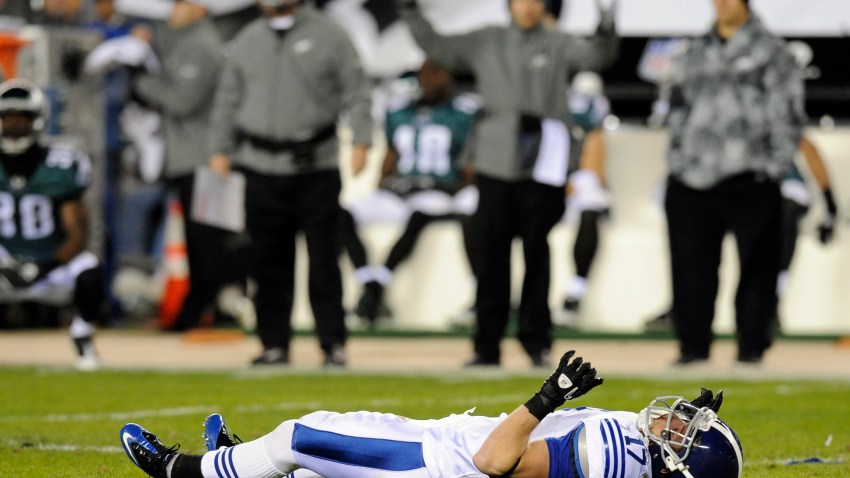 It looks like no Eagles will be suspended or fined as a result of an ugly hit that knocked out Austin Collie during the Eagles 26-24 win over the Colts Sunday.
Yes, Kurt Coleman, you can breath again.
The AP reported Monday afternoon that no punishment would be doled out on Coleman or Quintin Mikell for a second-quarter hit that knocked the second-year Colts wideout unconscious.
The NFL said because the helmet-to-helmet contact was a result of Collie being driven toward Coleman by Mikell's legal hit, there will be no fine. The league said game officials have been instructed to err on the side of player safety, and when in doubt, "penalize in situations such as this for unnecessary roughness."
Despite Collie being taken off the field on a stretcher he appears to have only suffered a concussion and nothing worse. Everyone, including the Eagles, is thrilled that Collie is OK but that doesn't mean that the refs didn't blow the call.
Collie had dropped the ball on the over-the-middle pass after taking a couple steps. Normally that would be a fumble but the play was ruled and incomplete pass and Mikell (even though it should have been Coleman) was flagged for a helmet-to-helmet hit because Collie was a receiver even though replays made it appear that he had already caught the ball and was actually a runner.
Questions still remained if the play was reviewable -- allowing the Eagles to collect the fumble. NFL spokesman Michael Signora explained to WIP-610's Howard Eskin that even if the play was reviewed and the Eagles won the challenge that it was a catch, the Colts still would have retained the ball and the personal foul call would stand.
The only part of the play that can be challenged is if it was a completed pass. If it was ruled after a replay review to be a completion, the ball would be dead at the spot. By rule, you cannot give possession of the ball to the defense in this situation.

This is different than on a down by contact play where a runner may be ruled down by contact but if after a replay review it can be determined that it was a fumble with clear video evidence of a recovery, the defense may be awarded possession.

In terms of penalties, personal fouls are never taken away. There is no instance in which a replay review would negate a personal foul.
Luckily the 15-yard penalty and the Colts TD it led to didn't cost the Birds Sunday but the precedence of the NFL telling their refs to basically flag the defender anytime a player gets hurt needs to be evaluated. If they don't keep the flags tucked away than the NFL could quickly become full of Vlade Divacs -- guys who seem to take dives all the time just to get the whistle.