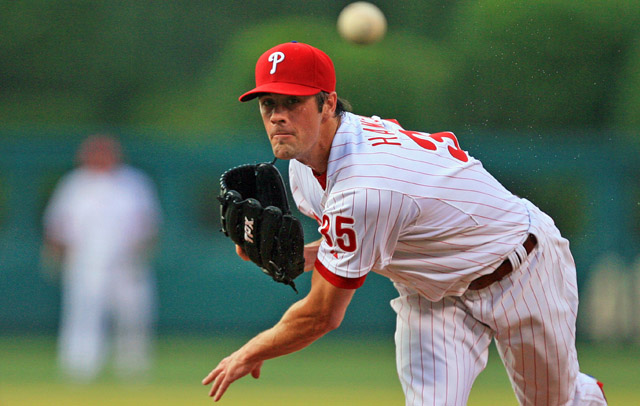 It looks like Cole Hamels will have to wait another season before making his debut in baseball's midsummer classic.

The left-handed starter, who is off to the best start of his career and is among the top ten in the league in just about every stat, was a shoe-in to be selected for this year's All-Star Game. But thanks to a recent jumbling of the pitching rotation, as well as a rule change in player selection concerning the All-Star Game, Hamels will find himself to ineligible to take the hill on July 12 in Arizona.

The Inquirer's Matt Gelb has more:
"By bumping Hamels into the rotation spot vacated by Roy Oswalt, Hamels is likely to make three more starts before the all-star break instead of just two. It also means Hamels surely will not pitch in the All-Star Game.

That is something the Phillies and pitching coach Rich Dubee probably won't lose sleep over, and justifiably so. A chance for Hamels to face the Red Sox and squeeze in another outing against Atlanta on the final day of the first half is obviously more important than pitching in an exhibition game in Phoenix.

A rule enacted by Major League Baseball last season prohibits pitchers who start on the Sunday before the All-Star Game from appearing in the game. They can be selected as all-stars, and Hamels likely will receive that honor, but then must be replaced on the roster."


As much as I'd like to see Cole Hamels make the All-Star team, I prefer that he doesn't throw any more pitches than he needs to in 2011. While an inning of work would be akin to a side session for a starter, I'm not going to lose sleep over the National League squad being denied access to the game's best left-handed pitcher.

Plus, this move means that the Phillies get one more start out of Hamels before the break, which holds much more value over having him facing the American League's best.

Besides, it's not like the All-Star Game really means anything. Oh, wait.