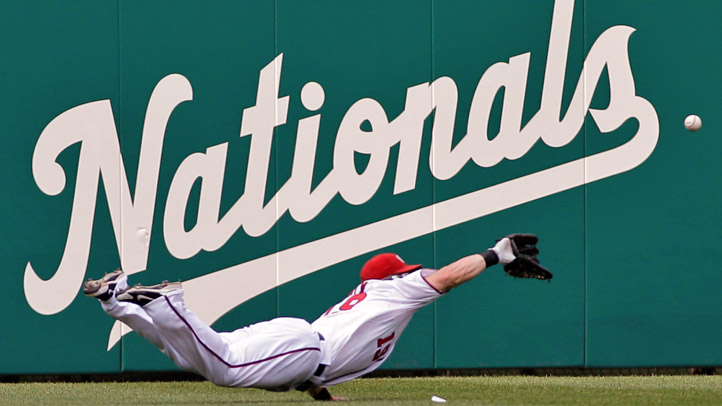 On a muggy day, the Phillies dropped a rare series to the Washington Nationals after a 2-1 loss in the rubber game of the three-game set.
Nats left fielder Lance Nix did it with his bat and his glove Wednesday. He hit the game-winning solo homer in the third inning then made a diving grab to rob pinch hitter Domonic Brown to get Washington out of a bases loaded jam in the sixth.
Washington starter John Lannan (3-5) finally broke his winless streak -- he was 0-10 -- against the Phils by giving up one unearned run, four hits and three walks while striking out one in 5 1/3 innings.
Phillies ace No. 3 Roy Oswalt (3-3) pitched OK, giving up two runs on six hits and two walks while striking out three in five innings. He was pulled after just 79 pitches to give Brown the chance to break the game open with the bases loaded.
"That's their decision," Oswalt said about his early hook. "(charlie Manuel)'s the manager of the team. I don't question too much of that, but that's the first time I've been taken out at 79 pitches."
The Phillies hapless offense managed just five hits while leaving nine on base. The Phils wasted a two-on one-out chance in the fifth, the bases loaded chance in the sixth and a runner on with one out in the ninth while scoring just once against the last-place Nats.
One of the stranger plays of the day came when John Mayberry, Jr. was tagged out at home trying to score on a Ryan Howard single to short right field. The run would have put the Phils up 2-1 at the time.
The loss marked yet another poor offensive showing for the Phils who remain in the middle of the National League in average, slugging percentage and on-base percentage.
The Phillies (34-22) have a day off before opening a three-game series at Pittsburgh Friday night. Cole Hamels (7-2, 3.01 ERA) tries to become the first Phillie to eight wins when he takes the hill. The Pirates counter with righty Jeff Karstens (3-4, 3.58).