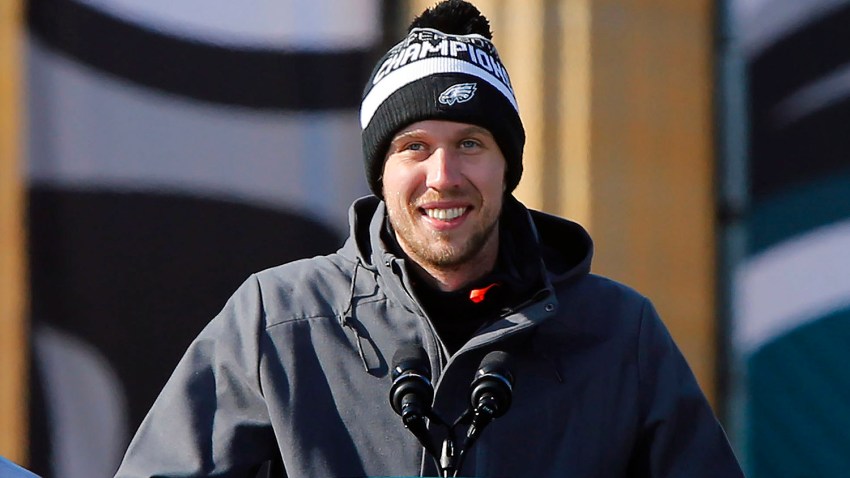 The Nick Foles World Tour continued on Thursday night as the Super Bowl MVP appeared on Jimmy Kimmel Live.
The comedian and the backup-turned-Super-Bowl-MVP chatted about the newfound fame that had Foles in Los Angeles for this appearance and has had him seemingly everywhere since the Eagles beat the Patriots in Super Bowl LII.
Nothing is sacred anymore for Foles.
"It's a little bit different," Foles said. "My safe spot to go was always Whole Foods. No one cared, no one recognized. But I can't go into Whole Foods now and I love going there. I knew things had changed when I went in there and got recognized."
Whole Foods had a suggestion for Foles.
We have the perfect disguise @NFoles_9. Miss you xoxo 💚#flyeaglesfly 📷@SInow pic.twitter.com/A9Km5DZ5uV— Whole Foods Market (@WholeFoods) February 16, 2018
Kimmel then noted how many Eagles fans are in L.A. (Remember when the Eagles basically had home games twice there this season?) Kimmel asked Foles if he's been seeing a lot of Birds fans while in L.A.
Foles: "Everywhere. Everywhere we've been there's been a ton of Philly fans, which is awesome."
Kimmel: "What do they do when they see you?"
Foles: "Most of the time it's ... cry. It starts off as a normal conversation, then it turns into tears. And everyone asks me, 'What do you do?'"
Kimmel: "Yeah, what do you do?"
Foles: "I simply just say, 'I understand. I get it.' Trust me, I've been in Philly. I get it. I get it; I know. And it means a lot. And the fact that the whole city cried, it was so emotional, that's what was so special to us. To be a part of winning this thing and bringing it back home to where it hasn't been. That's what was so special. And if you look at the parade and everything that went on, all the fans, all the speeches players gave, Jason Kelce gave. If you haven't watched that speech, watch Jason Kelce's speech."
Kimmel: "That was a beautiful speech. That was right up there with Dr. Martin Luther King. That was some speech and some outfit he was wearing."
From there, Foles tried to explain Kelce's speech and what he was saying about Eagles fans. He, of course, noted Kelce did it with a little bit different language.
Then Kimmel asked Foles about being a backup. The host noted that there's no way Foles could go back to being a backup, right? Well, what Kimmel might not know is that Foles is under contract in Philly for 2018 and Carson Wentz is still recovering from a torn ACL and LCL.
"We love Philly," Foles said. "You know, that stuff's out of my control. My agents, they handle all that. But we love Philly, we love the situation. And we'll worry about it when that time comes."
Finally, Kimmel asked Foles if he's heard from Tom Brady since the end of the game. Foles said not yet. Foles did offer that after the Super Bowl ends, there's chaos on the field and it's hard to move or get anywhere.
Kimmel came up with a solid solution. Brady should send Foles a pair of Ugg boots ... with a pebble inside.
Here's the full appearance:
Copyright CSNPhily