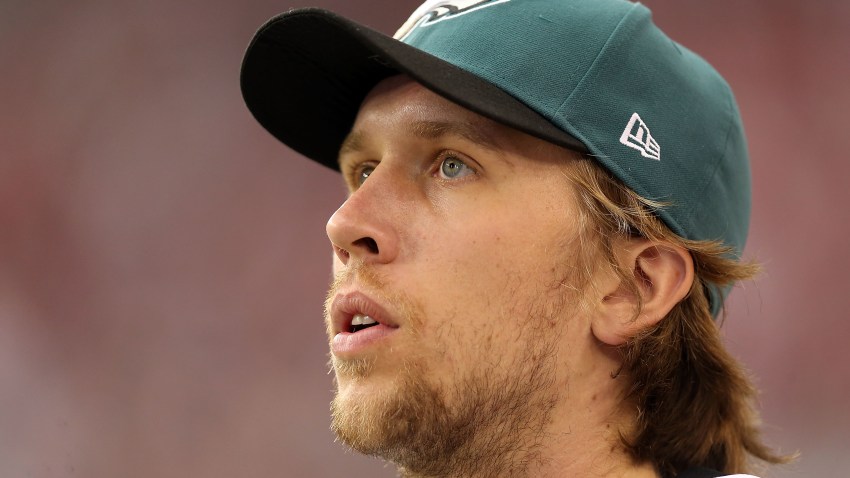 On Monday, I showed you how Nick Foles' stats through 5 games compare to his rookie peers. There were some positive notes there, especially when you look over the last two games. If he can keep up that pace of NFL-caliber QB play over the final three weeks, then we can talk seriously about 2013. But I would caution everyone against thinking that the Eagles have solved their QB problem already.
In all likelihood, Foles is not the answer in 2013, let alone for the next decade. Could he be? Yes. But he needs to prove that he can be the guy, not have fans or front office personnel will him into the role. Our default evaluation stance should be skepticism. Here's why:
1. Foles may not be able to keep up his recent run of success. To my mind, even considering Foles the guy for 2013 is entirely contingent on him finishing the year strong. Some people are treating that as a given, but it's not. Over the last two games, his best performances, Foles faced the 24th and 23rd-ranked pass defenses, according to Football Outsiders. He should look good against those teams. Furthermore, even in success Foles has been extremely lucky. Defenders have dropped multiple easy interceptions -- any one of which would have cost the Eagles the game on Sunday.
2. There is no guarantee Foles will improve over time. Remember in 2010, when Michael Vick blew everyone away and was given a contract extension? His renaissance didn't last long. While Foles may improve, make better decisions, work on accuracy and footwork and reading defenses -- opponents will improve as well. Teams figured out Vick, and with a rookie like Foles, they are only now starting to have the film to evaluate him. Whether that happens at the end of this season or next, they are going to catch up.
3. Immediate results mean little when you're thinking long term. Remember Bobby Hoying? Remember AJ Feeley? More recently, on other teams, think about John Skelton, Mark Sanchez, Ryan Fitzpatrick, Matt Cassel. The list goes on and on. Just because a player (especially a rookie) holds their own initially doesn't mean they can be the franchise QB permanently. Whether it's regression to the mean or defenses realizing they can blitz the heck out of you, players who are anointed early often fail in the long term.
4. Remember Foles' pedigree. High draft picks are never guaranteed successes, but they have a much lower bust rate. Six quarterbacks were taken before Foles went with the 88th pick. Most teams passed him over three times. Historically, quarterbacks drafted near Foles have less than a 10 percent chance of making a single Pro Bowl. A couple of competent performances don't change those overall odds of success.
5. What is Foles' upside? On a related note, you have to consider his ceiling. Few people seriously thought that Foles, a mid-round pick, had NFL-starter potential. He was compared, pre-draft, to Skelton and Chad Henne. Jon Gruden compared him to Brad Johnson based on preseason performance. And there are hints of that limited upside in the film and the stats. Not super-accurate, not a great long ball, not a dangerous scrambler. Do you want to hitch your ride to a guy who may not ever be an "elite" quarterback?
6. The Andy Reid factor. Reid has always gotten the most out of limited and young quarterbacks, Feeley being a great example. Those carriages typically turn back into pumpkins on the way out of town. And with Reid gone next year, will the next coach be able to make the most of out a guy like Foles? Running the ball more would help, but it's no guarantee.
7. Seize the moment. This isn't specifically about Foles, but more about the Eagles' situation. Right now they are lined up for the fourth overall pick in the next draft. It's not often (hopefully) that you end up in a spot like that. Unfortunately, the QB selection looks barren, but if the team remains that high, they potentially will have the chance to get the top option like Geno Smith. You don't turn your back on that chance just because of a guy like Foles.