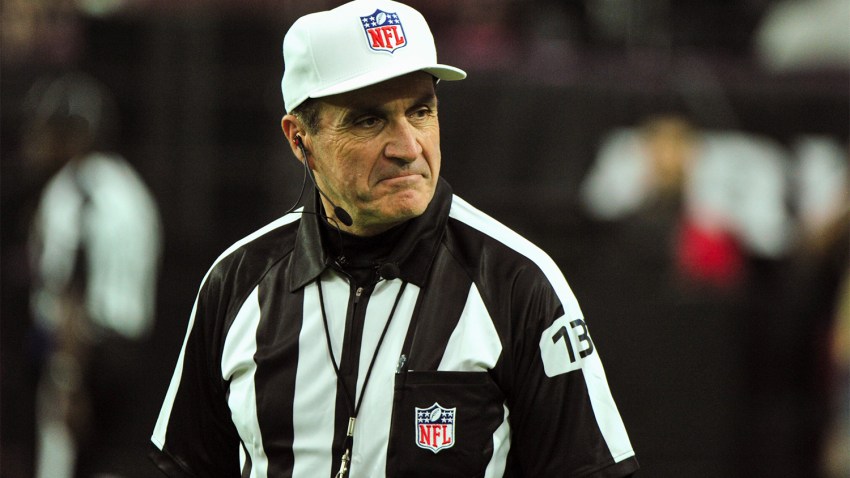 The NFL Referees Association responded to criticisms of Pete Morelli and his officiating crew, and in doing so, suggested Eagles fans and impartial members of the media have no idea what they are talking about.
Morelli has come under fire over the seemingly lopsided officiating during the Eagles' 28-23 victory over the Carolina Panthers in Week 6. The Eagles were penalized 10 times for 126 yards in the contest, while the Panthers drew only one flag for one yard, despite the appearance of committing many of the same infractions.
Since that game, a change.org petition moving to ban Morelli from working Eagles games in the future is approaching its goal of 75,000 signatures. Research also shows Morelli's crew has been calling penalties against the Eagles in disproportionate numbers for awhile now. In the last four games with Morelli, the Eagles were flagged 40 times for 396 yards, compared to just eight penalties for 74 yards against opponents.
Almost everybody seemed to be in agreement that the officiating was at the very least poor in the Eagles-Panthers game, if not biased. Everybody, that is, except NFLRA executive director Scott Green, who released a statement on Thursday.
Via ProFootballTalk:
"Claims like these demonstrate a fundamental lack of knowledge about NFL officiating," Green said. "NFL officials are graded on every call made in every game. Missing a single one can hurt his or her ranking and may be the difference between working in the postseason or not. These recent attempts to sensationalize statistics and create clickbait headlines lack important context. Without the proper perspective, the information being pushed is completely misguided. The passion of NFL fans and teams are a big part of what makes the game so great. However, it's no excuse for the irresponsible and baseless claims we've seen lately. NFL officials are committed to upholding the integrity of the game and do so every week."
Lack of knowledge. Completely misguided. Irresponsible and baseless. You would expect the NFLRA to come to the defense of Morelli -- it's literally their job -- but insulting the consumers' intelligence along the way probably isn't the best way to go about it.
Is there anything sinister about Morelli's and his crew's officiating? Maybe not, but it doesn't take somebody who's gone through the NFL's (presumably) rigorous Officiating Development Program to watch two nearly identical plays called differently for two different teams within three hours of each other. Innocent mistakes or not, that's what appeared to happen on multiple occasions throughout the Eagles-Panthers game.
Instead of releasing overly defensive statements, perhaps the NFLRA should show video evidence why the calls against the Eagles were correct, and the eerily similar non-calls that went in the Panthers' favor were not. Because this responding to criticism with more criticism isn't changing any minds.
Copyright CSNPhily