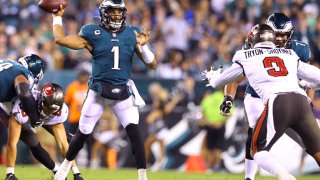 No moral victories, but a smidge of hope, in Roob's observations originally appeared on NBC Sports Philadelphia
It was close. It was still a loss.
The Eagles spotted the Buccaneers a 21-point lead, then rallied furiously to close to within six. But it was too late, and Tom Brady and the Bucs left the Linc with a 28-22 win.
Moral victory keeping it close? No freaking way. Because maybe with some decent play calling, the result would have been different.
Here's our 10 Observations off the Eagles' fourth loss in six games under Nick Sirianni.
1. This is two games in a row now that Jalen Hurts was largely ineffective throwing the football, and again the blame lies equally with Nick Sirianni's aimless play calling and Hurts' own struggles. Sirianni just doesn't have the ability right now to consistently call plays that give Hurts a chance to get into a rhythm, and Hurts for the second straight week missed too many open guys. This is the worst pass defense in the NFL – allowing 314 yards per game – and Hurts just wasn't able to take advantage. He was 12-for-26 for 115 yards, one TD, one INT and a 55.8 passer rating. Yes, he can make some incredible plays with his legs, and his running and scrambling late in games has gotten the Eagles back into two games they trailed by double digits. But until he evolves as a passer it's going to be very difficult for the Eagles to win many games. He's not seeing the field, he's not making smart decisions under pressure, and he's just flat-out missing open guys. Other than a 25-yarder to DeVonta Smith, a 24-yarder to Quez Watkins and a 16-yarder to Zach Ertz, he didn't have a completion longer than six yards Thursday. He has to be better.
Philadelphia Eagles
Complete coverage of the Philadelphia Eagles and their NFL rivals from NBC Sports Philadelphia.
2. It was incredible to see Miles Sanders rolling in the fourth quarter. Finally. After getting just four carries in the first three quarters, he was 5-for-50 in the fourth quarter. The Bucs have the No. 1 rushing defense but they couldn't stop him. Because he's a really, really talented running back, and the only person in the stadium that doesn't seem to realize it is Sirianni. Until it's too late. How on Earth do you ignore this kid week after week until the final minutes? This is two weeks in a row that Sanders was the Eagles' biggest weapon at the end of the game after being ignored most of the day. Sanders had one carry in the first half, when the Bucs rolled out to a 21-7 lead. Imagine if he got the ball earlier? Different game.
3. And I can't help believing Sirianni needs to hand off play calling to someone else, at least for a few weeks so he can step back and regroup as a play caller. There's a lot of talent on this offense, but it's being largely wasted. Sirianni just has no flair for this. No idea how to keep a defense guessing. Nothing inventive or creative. The offense seems to be chuck it deep and hope for pass interference or let Jalen take off. There's no shame in stepping away from play calling. Andy Reid did it a few times. He said it gave the offense a fresh perspective – which the Eagles desperately need - and also allowed him to focus on other aspects of being a head coach on game day. Yeah, the Eagles got rolling at the end of the last two games, but it's too little too late.
4. Over the last four games, the Eagles have run 105 plays in the first half. Thirteen of them have been running back carries. THIRTEEN. That's 12 percent. I don't even have anything to add on that one. It speaks for itself.
5. The Eagles were doing so well Thursday night with discipline. The league's most penalized team had just two penalties through 54 minutes. Then, with the Patriots' lead down to just six, the Eagles gaining momentum and the crowd finally charged up, Genard Avery was penalized for taunting. That's 15 yards. Taunting? Really? With six minutes left in a one-possession game against the Super Bowl champs? The Bucs ran out the clock. The lack of discipline this team continues to show is inexcusable.
6. I'm still not ready to give up on this defense. It might sound ridiculous after they allowed 28 points, but they actually played well after those first two quick Tampa touchdowns, allowing 14 points on Tampa's last nine drives and at least keeping the team in the game. As the game went on, they began covering, tackling and pressuring better. After playing 35 minutes on Sunday, they played 40 minutes Thursday night. If your offense is so bad you have to play 40 minutes against Brady and you allow 28 points, hey, it could have been a lot worse. The Eagles have allowed 104 points to Dak Prescott, Pat Mahomes and Brady and 39 points to Matt Ryan, Jimmy Garoppolo and Sam Darnold. The schedule gets easier now, and I want to see how they defend some teams that don't have world-class offenses. I actually think they're going to be OK.
7. How about the Bucs – who have the greatest quarterback in history – running the ball 31 times? How did they build a 21-point lead? By mixing it up. At the point they went up 28-7, Bucs running backs had 21 carries and Eagles running backs had two. Because Bucs offensive coordinator and play caller Byron Leftwich understands the value of a running game, even with a Hall of Fame quarterback.
8. Andre Dillard had a rough night after playing pretty well the last few weeks. I wonder if the o-line might be better off with Jordan Mailata back at left tackle, Jack Driscoll moving out from right guard to right tackle – where he's played well – and Nate Herbig back in at right guard, where he's been fine. Mailata is the left tackle of the future. He's a flat-out stud at left tackle and that's where he belongs.
9. That's nine straight games without a sack for Derek Barnett.
10. One guy who played really well and has all year is Avonte Maddox. The Eagles really had no choice last year but to play him outside, and with his size he's just not suited to it. But he's a nice little slot and was one of the Eagles' few bright spots Thursday night.
Subscribe to the Eagle Eye podcast:
Apple Podcasts | Google Play | Spotify | Stitcher | Art19 | Watch on YouTube