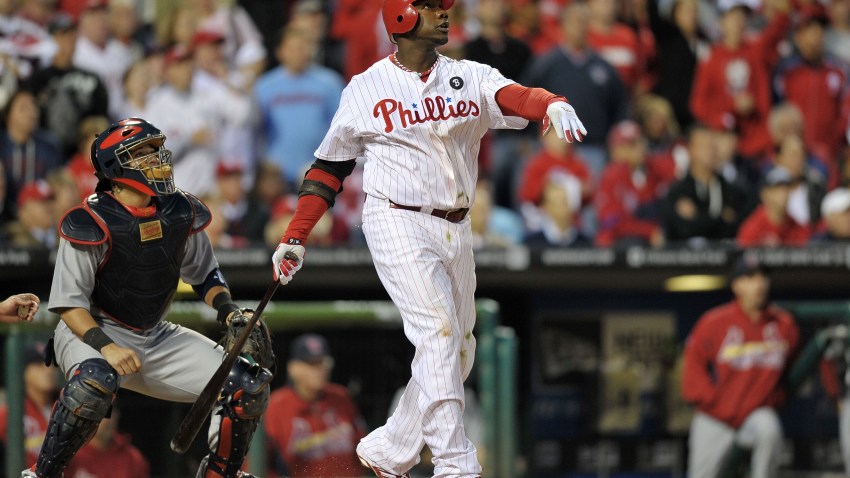 Every day this month, we here at Philthy Stuff will be counting down the New Year's resolutions of each member on the Phillies, and what they can do to guide this team back to October. Next up, Ryan Howard.
When Howard made his mark in the league in 2005, he announced his presence with authority, blasting home run after home run, as he slugged his way to a Rookie of the Year -- followed by an MVP a year later when he hit 58 homers to go along with a stellar .313/.425/.659 line.
Flash forward a few years, and Howard is still doing his thing. He is hitting homers, knocking in the bounty of runners that appear on base ahead of him and generally being an affable and likable guy. Sure, he's lost a step or two in the batter's box, and he doesn't quite mash 'em like he used to, but he remains one of the bigger power threats in the National League.
The postseason, on the other hand, has not been so kind to Howard. In 2009 he struck out a record 13 times in the World Series. In 2010 he stood idly by while strike three crossed home plate to send the San Francisco Giants to the World Series. And last season he grounded out weakly to end the NLDS but not before injuring himself as he barreled down the baseline.
And that brings us to right now. With spring training less than two months away, Howard's future is not so certain as he recovers from a torn Achilles that will ;likely sideline him for the start of the season. And it's that same injury that tops Ryan's list of 2012 resolutions.
Get Well Soon: This one is pretty obvious. Until Howard gets back to manning first base, it's going to be a revolving door of cast-offs and guys who would otherwise not be starting if not for the injury known as Ryan Howard's ruptured Achilles. I like Jim Thome and all, but a full-time player, he is not. And Ty Wigginton? I am unconvinced that the veteran will be anything more than an extra man and spot starter.
Last we heard, Howard was progressing well in his rehab -- all we can to do is hope that the slugger gets well sooner rather than later.
Left Out: One of the biggest flaws in Howard's offensive game is his inability to hit left-handed pitchers. And until he proves otherwise, it's going to be a flaw that opposing managers continue to exploit with gusto. Howard will rarely face a right-handed pitcher in the late innings of a close game -- and for good reason.
Since debuting in 2004, Howard is a .231/.311/.438 hitter against southpaws, with only 68 of his 286 career homers coming against lefties. As he gets older he doesn't appear to be getting any better -- lefties held him to a .634 OPS in 2011.
At this point, the book is out, and we really can't expect him to reverse that trend. All we can hope, however, is that Howard can manage to put together good at-bats despite the fact that he appears to be wildly over matched when a lefty is on the hill.
Contract Time: This season, Howard will being his five-year, $125 million extension that he signed during the 2010 season. At the time, many were skeptical about the team's commitment to a player who would be 32 years old when the contract started but given inflation and the increasing cost to sign slugging first-basemen, it made a bit of sense.
But, hindsight is 20/20, and if the last two years are any indication, then the Phillies may have committed a great deal of money to a player who appears to be declining. While injuries have played a role in his un-Howard-like 2010 and 2011 seasons, the days of him hitting 45 homers and slugging at a .500 rate are more than likely behind him.
That's not to say that Howard won't be a good player over the next five years, but it's getting off on the right foot.