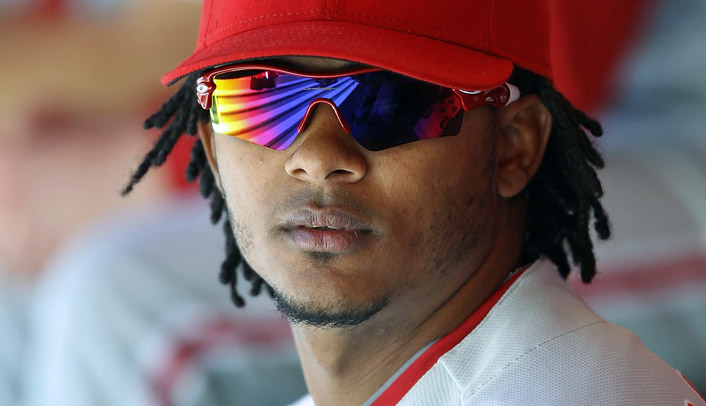 Every day this month, we here at Philthy Stuff will be counting down the New Year's resolutions of each member on the Phillies, and what they can do to guide this team back to October. Next up, Michael Martinez.
When Michael Martinez was selected in the Rule 5 Draft before the 2011 season, the reaction from the fans was largely one of "Who?" Indeed, not much was known about the switch-hitting utilityman, except that the Washington Nationals didn't deem him worthy of a spot on the 40-man roster, which made him available to the Phillies.
Still, you never know what you might get sifting through the detritus of another team's roster. Sure, you could wind up with a journeyman player who can't make the team out of Spring Training, or you might get Shane Victorino, who the Phillies snagged from the Los Angeles Dodgers in the 2004 Rule 5 Draft.
At any rate, Martinez -- who can play just about every position on the field -- received a fair amount of playing time, thanks to injuries to Chase Utley, Victorino and Placido Polanco. His defense was solid enough, and when it came to offense, he more than lived up to his light-hitting reputation, as he finished the season with a line of .196/.258/.282, with three homers and 24 RBIs in 88 games.
And now that Wilson Valdez is gone, it looks like Mini-Mart will be the go-to backup infielder in 2012. And with that, let's take a look at this resolutions.
Stay Ready: When your primary job description contains the word "back-up" or "utility," then it's a good idea to always be prepared to take the field -- regardless of whether or not you're in the starting lineup. If 2011 was any indication, then it's a safe bet that Martinez is going to get plenty of chances to play in place of Utley and Polanco, whose injury history has made them prime targets for more frequent off-days.
Try Hitting: Martinez may have shown off his versatility last season with his glove, but it was nothing but futility when it came to his bat. The light-hitting one had a few bright spots with the bat, but more often than not, he was just another out in the lineup.
I'm not saying that he has to hit .300 in order to prove his worth to the team (especially as a backup), but a few more hits here and there wouldn't hurt, is all.