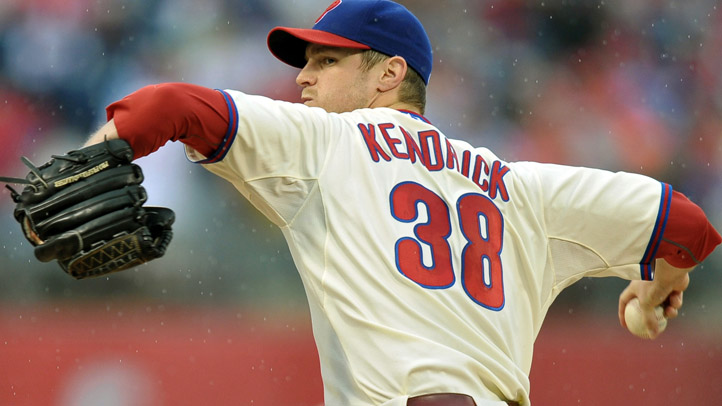 Every day this month, we here at Philthy Stuff will be counting down the New Year's resolutions of each member on the Phillies, and what they can do to guide this team back to October. Next up, Kyle Kendrick.
When Kendrick first came to the Phillies in 2007 to fill the gaps on an injury and talent-depleted pitching staff, not many thought that he would be long for the world of the Major Leagues. Despite the fact that he had a solid enough rookie campaign, where we went 10-4 with a 3.87 ERA, he wasn't capable of being the kind of starter that could be relied upon for 200 effective innings.
But, smash cut to 2012, and Kendrick remains in red pinstripes. He persists, even though he can't seem to strike anyone out. He persists, even though he doesn't have an out-pitch and that his repertoire is fringy, at best. And, he persists, because, even though the Phillies don't need to pay him upwards of $3 million in salary to retain his services, they do anyway.
In a nutshell, Kendrick is Ringo Starr, a.k.a. the luckiest man in the world. Even though his job could be performed by just about anyone, he is the fortunate sap that gets to hang out on the Phillies roster, while other, perhaps more talented arms get overlooked in the lower levels. And to be fair to Kendrick, he's been capable enough -- when he takes the hill, he doesn't stink up the joint. Until that day comes he could still be part of this team.
So what does Kyle need to do in 2012? Well, a lot of things, to be honest.
Strike 'Em Out: One of Kendrick's biggest faults is that he doesn't have any overpowering or plus pitches, and he relies on his sinker over half the time, which makes him wildly predictable. And as a guy who is likely going to spend the bulk of time in the bullpen, it would behoove him to learn to set batters down via the strikeout. After all, nothing gets it done quite like a K.
Kill Those Worms: On the plus side, Kendrick has been able to keep opposing hitters on the ground at a 45-percent rate over his career. It's not earth-shattering, and he's no Derek Lowe (or David Herndon!), but, as a pitcher, if you can keep the ball of the ground, it greatly diminishes the chances of those balls falling into the gaps or over the fence (Only in Bugs Bunny cartoons do ground balls turn into home runs).
And quite frankly, when you have a defense behind you consisting of Placido Polanco, Jimmy Rollins and Chase Utley, you stand a decent chance of getting a lot of outs if you prevent your opponent from putting the ball in the air.
Blend In: If you're Kyle Kendrick, the best thing you can do is to hope that no one even notices you. Really, just blend into the background and don't cause any trouble. It's like when you're in high school. If the teacher doesn't know that you're there, you'll never get into trouble or get asked to do anything strenuous.
(It probably seems like I don't care for Kendrick too much. That's just not true. I like Kendrick very much, and I want him to succeed. I just don't have high expectations, and quite frankly, I think that his salary would be better used elsewhere.)