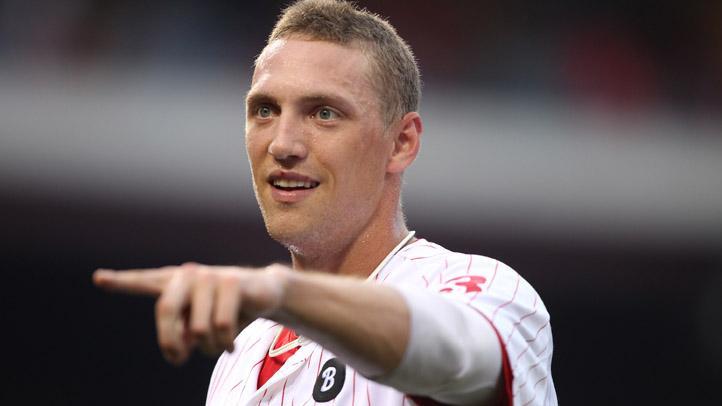 Every day this month, we here at Philthy Stuff will be counting down the New Year's resolutions of each member on the Phillies, and what they can do to guide this team back to October. Next up, Hunter Pence.
One of the chief concerns about this Phillies team heading into 2011 was a lack of power from the right side of the plate. It was a legitimate concern -- the Phillies had no true power-hitting right-handers. And when the Ben Francisco experiment failed, Charlie Manuel was left to mix-and-match his hitters on a nightly basis, so as to not make things too easy for opposing pitchers.
It wasn't until the trade deadline that the Phillies got their hands on a bon a fide right-handed slugger when they traded for Pence. The right fielder, who was hitting .308 with eight homers when he was traded from the Astros on July 29, had an immediate impact, and was crucial in the team's 6-5 win over the Pittsburgh Pirates in his first game as a Phillie.
He would go on to have a .324/.394/.560 line the rest of the way, and cemented an already solid Phillies lineup. But with 2012 looking to be a much bigger challenge for the Phillies, it's imperative that Pence picks up where he left off.
Be an Anchor: With Ryan Howard's 2012 in jeopardy, it's quite likely that Pence will occupy the clean-up spot for the bulk of the first part of the season, which puts him in the very desirable position of having several runners in scoring position when he strolls to the plate.
To that end, Pence will be one of the primary driving forces behind the offense -- the lone power threat from the right side of the dish. And with the lineup chock full of question marks, Pence will have an opportunity to really stand out in the early goings.
Tone It Down a Notch: One of the things we like in our ballplayers is a certain amount of charm and charisma when they get in front of the camera. No one likes a sourpuss, and while we appreciate the efforts of some of the more stoic players, no one gives an interview quite like Jimmy Rollins or Ryan Howard.
To that end, I'd like for Pence to reel it in... just a little. We know that he is a go-go-go type, and he and Shane Victorino probably never have a shortage of things to talk about, but maybe he can ease up on the energy during his postgame interviews. It's not that I want him to ape Tim Robbins from Bull Durham, but come on Hunter, we don't need another one of those stupid "Good Game, Let's Go Eat" shirts. You dig?
Take a pitch. Or 3.: Over the course of his five-year career, Pence has been nothing if not aggressive at the plate. Even in his limited time with the Phillies, it's obvious that the guy's plate approach can be aptly described as "antsy." And it's not that it's necessarily a bad thing, because Pence generates enough power with his swing that he isn't an automatic ground out when he stands in the box.
However, if there is one thing that this team doesn't need, it's another free swinger. When Jayson Werth left town after the 2010 season, the Phillies were effectively left with three guys (Victorino, Carlos Ruiz and Chase Utley) who were able to get on base at a semi-decent clip. And with Utley's OBP at a career low in 2011 -- and certainly an unknown commodity in 2012 -- it would behoove Pence to be a bit more patient in the box.
There is no reason to swing at the first pitch -- something he did in 96 of his 606 at-bats in 2011 -- especially when most of the rest of the lineup is getting older and figures to be less effective with the bat. And if there is anything to be learned from the NLDS matchup with the Cardinals, it's that teams who can put together good at-bats -- which includes taking pitches -- will almost always put themselves in a position to win ball games.