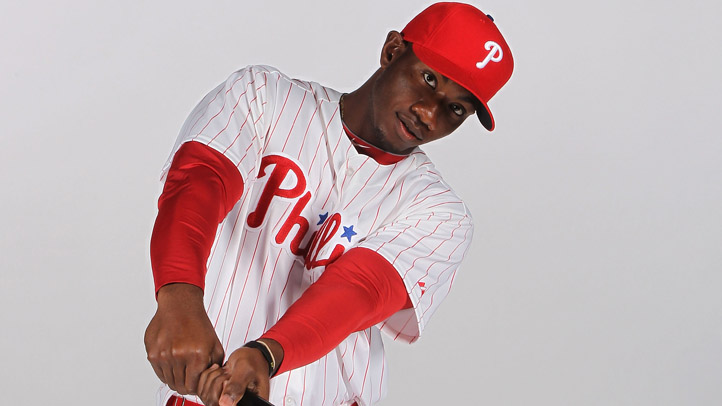 We here at Philthy Stuff are counting down the New Year's resolutions of each member on the Phillies, and what they can do to guide this team back to October. Next up, Domonic Brown.
Everyone loves a good prospect. And why not? It doesn't matter how good your team is because knowing that there is a young stud hitter or pitcher in the minor leagues just waiting to break into the bigs is something that anyone can appreciate.
Phillies fans have certainly been no stranger to that in recent years, as their current roster is composed of several past prospects -- and if everything goes to plan -- figures to continue with that trend in the future.
The latest in the line of prospects is Brown, the 24-year-old, left-handed hitting outfielder who figures to play a crucial role in the future of the organization. Drafted right out of high school in 2006, the toolsy slugger has long been considered among the best prospects in the game.
Of course, being labeled a top prospect means very little if you can't produce at the major league level. In 2012 Brown has a fighting chance to make the Opening Day roster. But, even if Brown gets overlooked for John Mayberry, Jr. (which is highly possible), he still has a pair of resolutions of his own in 2012.
Patience, Young Prospect: One of the things that I harp on is a hitter's ability to have a good at bat, even if that at bat doesn't always end with said batter reaching base. Even if an at bat ends with a weak ground out to third, it still isn't a total loss if the batter was able to see six or seven pitches, because he not only got to see everything in the pitcher's arsenal, but he got to creep that pitch count up just a bit.
Throughout his professional career, Brown has done just that, as evidenced by his career .375 on-base percentage in six minor league seasons. Even though he didn't display that ability in his first tour with the Phillies (five walks in 70 plate appearances), he turned that corner in 2011, when he walked 25 times in 210 plate appearances -- a 4-percent increase -- thanks in part to seeing 4.09 pitches per plate appearance, trailing only Ryan Howard.
And if there is one thing the Phillies need, it's less first-pitch-swingers and more make-pitchers-work guys.
Let the Kid Play: I wrote about this last week, but it needs repeating. Despite his age, Dom doesn't have too much more he can learn in the minor leagues. When most players are first starting to get consideration to get called up to The Show, Dom has had a delicious cup of Phillies coffee on two separate occasions over the past two seasons.
While his numbers (.236/.314/.382 in 91 games) aren't terribly impressive, it's worth noting that most players don't set the baseball world aflame with less than a season under their belt. If he gets sent back to Triple-A to start the season, he is going to do what he's always done, and that's tear apart minor league pitching.
And yes, while his defense in left field could probably use some work, his potential for offense is much more valuable to the team than whatever he doesn't bring on defense. With the 2012 team projected to struggle with the bats at times, it makes very little sense not to inject some young firepower into the mix.