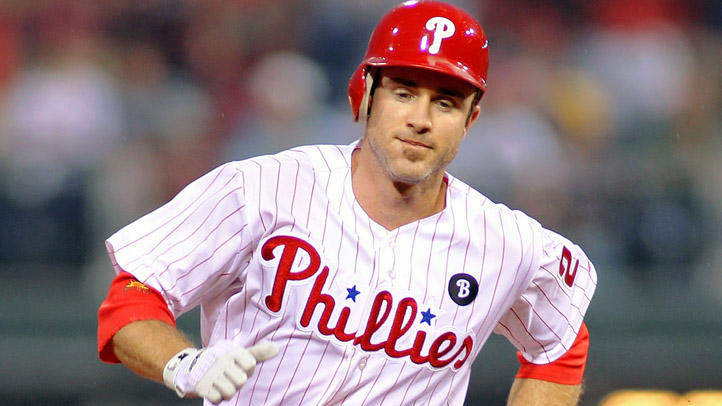 Every day this month, we here at Philthy Stuff will be counting down the New Year's resolutions of each member on the Phillies, and what they can do to guide this team back to October. Next up, Chase Utley.
Over the past five years or so, the Phillies have had the fortune to get some great performances out of their roster. They've had Cy Youngs, MVPs, Gold Gloves and a whole host of other dazzling performances -- many from home-grown players -- that really make you stand up and take notice.
However, one of the most valuable players on the team during that span is also the one who has gone without many accolades: Chase Utley.
Aside from being referred to as the best second baseman in the game during his peak, Chase has never been recognized for his efforts besides some All-Star Game selections. He's fallen short in the MVP race and has never received any recognition for his sterling defense.
But over the last half decade, no position player has been as valuable to the Phillies as Utley. And 2012 should be no different. But if Utley wants to be the rock in the lineup, he's got to do a few things...
Stay Healthy: No Phillie has been bitten by the injury bug more over the last three seasons than Utley, who had hip surgery before the 2009 season, broke his thumb in 2010, and dealt with a career-threatening knee-injury at the start of last season. As a result, his offensive numbers have slipped and he's been forced to miss a significant amount of time as he rehabbed.
While his .259/.344/.425 line in 2011 was more than likely the result of his hobbled knee, it's safe to assume that a fully rested and healthy Utley would perform closer to his career line of .290/.377/.505. Will we see the Utley that we saw in 2006 and 2007 again? Likely not, as the 33-year-old is getting older and the knee problem could be here to stay, but assuming he has no additional setbacks over the course of this offseason, we should expect a much more familiar Utley in 2012.
Rest Up: One of the reasons that Utley is so adored by fans in the City of Brotherly Love is that his work ethic and attitude very much mirrors that of Roy Halladay's, in that he never stops trying to get better, and nothing short of a catastrophic event will keep him from taking the field. Oddly enough, it's this same sort of hard-charging attitude that likely contributed to both his hip and knee injuries -- as his off-season regiment and reputation for going all-out on every play have caused his body to break down.
For this reason, the onus is on Chase -- and Charlie Manuel -- to pump the brakes over the course of a 162 game season. And, unfortunately for Utley, that means sitting out a game every now and again to keep him fresh for October.