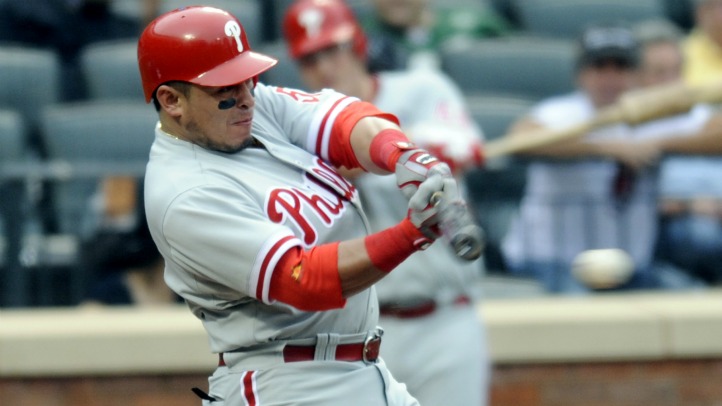 Every day this month, we here at Philthy Stuff will be counting down the New Year's resolutions of each member on the Phillies, and what they can do to guide this team back to October. Next up, Carlos Ruiz.
When Ruiz joined the Phillies in 2006, not many knew what to think of him. After all, he was tiny(ish) and didn't have terribly impressive minor league resume. Sure, it looked like he had pop in his bat, but what could he do in The Show?
To boot, he had the unfortunate duty of splitting time with Chris Coste, the 33-year-old rookie who was the toast of Philadelphia. And, if you're like me, seeing Ruiz's name in the starting lineup over Coste elicited a reaction not too dissimilar from what you might do if you drove all the way to the store to buy bacon, only to drive home and realize that what you actually bought was the vegan equivalent. Sure, it's technically "edible," but come on, nothing beats real bacon.
Needless to say, Ruiz's arrival in Philadelphia was met not with a bang, but a whimper, something that wasn't helped along by his performance. In his first four seasons with the team, Ruiz amassed a line of .246/.337/.379, which gives him an OPS (.716) that ranks 23rd among catchers with at least 1,000 plate appearances in that time frame.
And while we could praise his defense and his ability to come through in the postseason, he was a defense-first catcher that had a knack for handling a pitching staff, but not much else.
That is, until 2010 rolled around, where he put up a .302 batting average to go along with a .400 on-base percentage, the latter which led the team. He followed that up with a very solid season at the dish in 2011, where he hit .283 with an OBP of .383. Not too shabby, at all. Suddenly, Chooch was a legitimate threat at the plate, which is just what he needs to be in 2012.
Stay Patient: Catchers who can get on base at a .370 clip don't exactly grow on trees, so it's crucial for Ruiz to keep that same plate approach in the new year. He isn't going to hit for much power, but with the Phillies offense slated to be a bit shaky in 2012, they'll take all they can get.
On-base percentage tends to be wildly underrated by some, but if the eight-hole hitter can reach base 40 percent of the time, then consider yourself lucky.

Handle With Care: While his bat is getting much deserved attention, Chooch's top priority in 2012 is to keep doing what he's been doing with regards to the pitching staff. He has earned a reputation as a great game-caller -- it certainly doesn't hurt when Roy Halladay, Cliff Lee and Cole Hamels throw to you -- but his presence behind the plate should not go overlooked.
Earlier this year, there was a great story in Sports Illustrated about Ruiz, and exactly why he is so important to the success of the Phillies. It's not just that he plays sound defense and can call a good game, but it's the method by which he goes about doing it. He becomes one of the pitchers. When they succeed, he succeeds, and when they fail, he fails.
Controlling a pitching staff is arguably the most important thing that a catcher can do, and Chooch has done it beautifully. Here's hoping for more of the same in 2012.