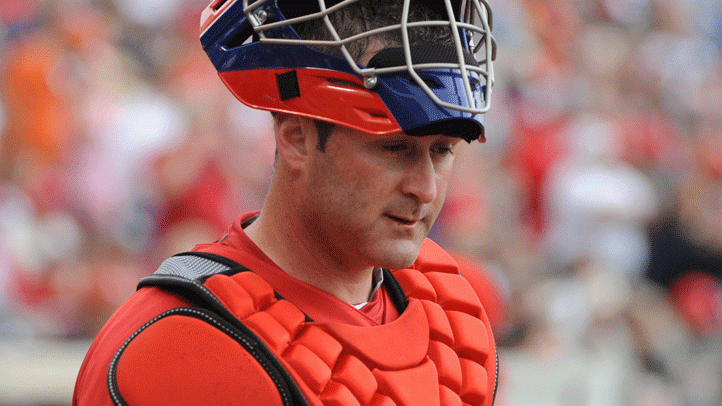 Every day this month, we here at Philthy Stuff will be counting down the New Year's resolutions of each member on the Phillies, and what they can do to guide this team back to October. Next up, Brian Schneider.
On the baseball diamond, few positions are as disregarded -- historically -- as the catcher. Despite the fact that the catcher is involved in every defensive play of the game (calling pitchers, catching pitches and so on), and that squatting behind home plate for nine innings (and sometimes more) is no treat, people still overlook No. 2 on the scorecard.
They call the catchers mask and chest protector "the tools of ignorance," and when you were growing up, no one -- and I mean no one -- wanted to play catcher in Little League.
Yeah, rough times for the guys behind the plate. It's bad enough that grown men are throwing a hard orb at you in excess of 90 mph, but it's hot back there, you're getting banged with bats and foul balls, and no one expects too much out of you at home plate. Tough life.
And, for that reason, no one on a baseball team is more under appreciated than the back-up backstop. This is the guy whose job is to play once every five or six days, and because he is labeled "backup," it's safe to say that he got that job because he wasn't good enough to start. And considering that the average catcher in 2011 had a robust .243 batting average and .695 OPS, you can imagine the offensive skill set of most backup catchers.
So, let's take a look at Schneider -- who is a perfectly nice guy who grew up rooting for the Phillies -- and what he needs to do in 2012, not only break the stereotype of the backup catcher, but also make the fans forget about that other guy behind the plate. What was his name, Chooch, or something?
Ride That Pine: Again, this is no slight to Schneider, but the fewer at bats he gets in 2012, the better. Sure, he is going to spell Carlos Ruiz once or twice a week, but given the offensive uncertainty of parts of the roster, the Phillies need Chooch and his on-base skills in the lineup as often as possible.
To that end, I'd prefer that Schneider only be called upon to give Carlos a rest, and not because our beloved starting catcher caught the injury bug.
Offense Matters: For catchers, defense and calling a good game is the priority. That's why catchers like Brian McCann, Carlos Santana and Joe Mauer -- guys who can hit the snot out of the ball -- are so highly valued, because it's not often that you get a catcher who can hit AND catch. Usually, when guys can hit, they don't get stuck behind the plate.
Schneider, on the other hand, has done very little hitting during this time in red pinstripes. In his two years as the backup to Ruiz, he's compiled a .208 batting average to go along with six homers and 24 RBIs. Of course, we can't expect to much from a backup in his mid-30s, but he has only so many at-bats during the course of the season, so let's make some of them count in 2012.
Be Yourself: Like I said, Schneider is a perfectly nice guy, and I'm happy that a hometown guy finally got to play for the team he grew up rooting for. If only we could all be so lucky. And, quite frankly, the world could use more guys like Brian. So, keep it up, guy.