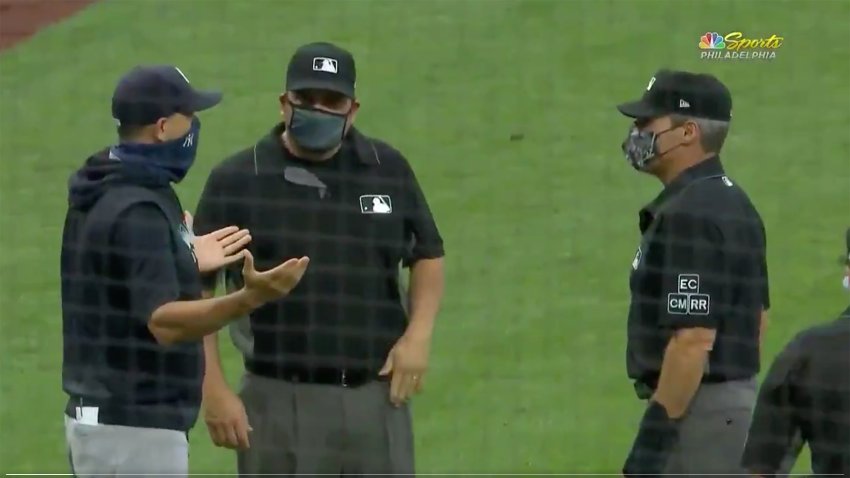 Yankees manager Aaron Boone didn't look too thrilled with a group of Phillies fans out past the centerfield gate early in Thursday's series finale.
After the top of the third inning, Boone came out to have a conversation with the umpires, gesturing toward the group of fans past beyond the gate. His gripe appeared to be the fans blowing an air horn as a Phillie would deliver a pitch to a Yankee. It certainly was audible throughout the top of the third, when Zach Eflin set down Aaron Hicks, Giancarlo Stanton and Gleyber Torres in order.
The "Fandemic Crew" has become an early-season staple outside the gates of Citizens Bank Park in this season without fans in stands. There was even a drumline out there earlier in the season.
It's one of the benefits of home cookin', and it's impossible for an umpiring crew to discipline a group of fans 450 feet away, outside the stadium. The Phillies play 16 of their first 17 games at home this season because of scheduling changes, and the fans now know it irks an opposing team, so don't be surprised to hear that air horn again soon unless the league intervenes in some way.
Subscribe and rate the Phillies Talk podcast:
Apple Podcasts / Google Play / Spotify / Stitcher / Art19 / YouTube
More on the Phillies
Yankees manager Aaron Boone apparently not a fan of Phillies fans' air horn originally appeared on NBC Sports Philadelphia
Copyright RSN