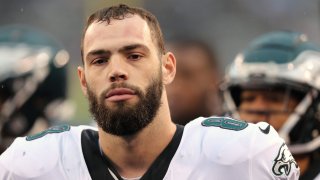 ---
Update: On Monday, authorities announced simple assault charges against a 29-year-old Florida man. NBC Sports Philadelphia reported on the details.
A surveillance video has emerged that purportedly shows Eagles tight end Dallas Goedert getting sucker punched at a South Dakota bar.
NBC Sports
Powered by NBC Sports Philadelphia
The incident happened on over the weekend. Goedert was taken to the hospital following the incident and the suspect who allegedly threw the punch was arrested, a source confirmed to NBC Sports Philadelphia.
While Goedert was taken to the hospital, he is fine, a source said.
Here's the reported video from Twitter user @SamStompy. There punch is hard to watch and the video contains some NSFW language:
NFL reporters Adam Schefter and Ian Rapoport shared the video with their millions of followers on Sunday afternoon.
The video shows a man who is purportedly Goedert moving a man away when another man comes and punches him without provocation. The snippet is short and doesn't offer any additional context.
Goedert, 25, grew up in South Dakota and also went to college in the state.
According to the Mitchell Republic newspaper, the incident happened at The Zoo Bar in Aberdeen, South Dakota. Police were called just after 1 a.m. on Saturday morning after a report came in that said, "people busting glasses and have busted heads."
NJ.com first reported the incident on Saturday evening.
Several of Goedert's teammates offered their support.
Subscribe and rate the Eagle Eye podcast:
Apple Podcasts / Google Play / Stitcher / Spotify / Art19


Click here to download the MyTeams App by NBC Sports! Receive comprehensive coverage of your teams and stream the Flyers, Sixers and Phillies games easily on your device.
More on the Eagles
Surveillance video emerges of Dallas Goedert getting sucker punched originally appeared on NBC Sports Philadelphia
Copyright RSN