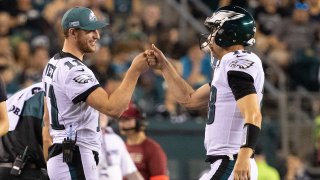 Even in practice squad role, Josh McCown can continue to mentor Carson Wentz originally appeared on NBC Sports Philadelphia
Carson Wentz couldn't help himself.
So on Monday afternoon as the franchise quarterback was answering a question about the Eagles' newest practice squad member, Josh McCown, a devilish grin took over Wentz's face.
"I'm pretty proud of him also for setting another record this year for being the oldest practice squad player, "Wentz said. "He just keeps setting new records."
To be fair, it is a new record. McCown, at 41, is the oldest practice squad member ever in the NFL. And he's not even going to spend his time in Philadelphia. Instead, McCown will make $12,000 per week this season to live in East Texas and stay ready in case COVID-19 rips through the Eagles' quarterback room. He's their break-glass-in-case-of-emergency quarterback.
It's good work if you can find it.
While it's undoubtably a good deal for McCown, it's also a good deal for the Eagles. They'll happily have McCown as an insurance policy, taking up one of 16 practice squad roster spots.
Sure, the Eagles could have picked a different quarterback to quarantine, but keeping McCown around as a resource for Wentz is an added bonus that shouldn't be overlooked. The Eagles already had interest in McCown as a potential coach and this position can sort of be between the two worlds.
"Yeah, I'm very excited about it," Wentz said on Monday. "Having Josh around last year was huge for me, but really for this entire building. I think he just provided a lot of insight, a lot of energy. He was kind of a mentor to a lot of guys. He's twice the age of some of the guys in this building, so I always gave him a little crap for that, but it's awesome to have him back."
All the details haven't been worked out yet, head coach Doug Pederson said. They don't know exactly what McCown's typical week will be like. But you can bet he'll still be involved in the meeting room as a virtual participant and still be involved in film study.
This was an idea we first heard about back in July, when McCown's agent Mike McCartney brought it up in an interview with MMQB. In addition to McCown, McCartney also represents Drew Stanton.
The Eagles obviously liked that idea.
"With the new practice squad rules and being in a pandemic, being in a situation that's a little not normal from a season standpoint and players, it just made sense to have a guy that we're familiar with," Pederson said. "He's played on this team. He knows our team. He knows our system."
He also knows Carson Wentz. And Carson Wentz knows him. If spending $12K per week gives you an insurance policy and a sounding board for the most important player on the team, it's money well spent.
Copyright RSN