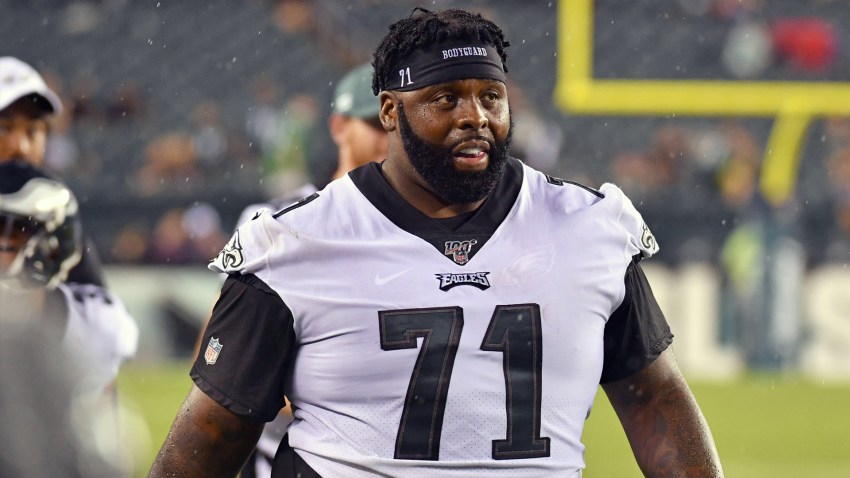 Jason Peters is heading back to left tackle for the 2020 season originally appeared on NBC Sports Philadelphia
Doug Pederson had an unexpected visitor at his office door on Monday morning.
It was a future Hall of Fame left tackle saying he's finally ready to move back to his position.
"I can actually share some news with you," Pederson said on Monday afternoon. "Jason Peters came into my office this morning and he has decided to slide over to left tackle. This is the unselfishness, this is who he is. When we talk about guys and we talk specifically about Jason Peters, this is who he is. He sacrifices not only his body for the football team. He did an outstanding job for us at right guard.
"It was valuable experience for him to play over on the right side and get some of the interior work. As he looks at not only where we are but also where he is, he came in today and he was excited to move to left tackle."
Peters, 38, had been playing right guard all training camp. The Eagles signed him to play that position after Brandon Brooks went down with a torn Achilles.
But after Andre Dillard tore his biceps, Peters curiously stayed at right guard. It was then reported that Peters wanted a pay bump to move from right guard to left tackle.
The Eagles put Matt Pryor at left tackle to end training and it appeared like Pryor simply wasn't ready to play that position. Pederson said either Pryor, Nate Herbig or Jack Driscoll will take over at right guard.
Peters signed a one-year contract worth $3 million to play right guard this season. He made $6 million at left tackle last season. It's unclear if the Eagles might still bump up his pay now that Peters is officially moving back to left tackle.
The Eagles this weekend also worked out veteran offensive tackle Cordy Glenn. Pederson didn't get into too many details but said that workout went well. Even with Peters at left tackle, the Eagles don't have a ton of experience. They have just eight offensive linemen on their 53-man roster and adding some depth might make sense.
Copyright RSN