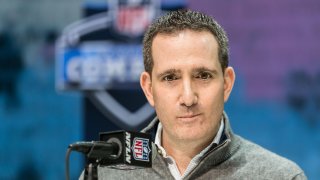 10 revealing Eagles draft trends under Howie Roseman originally appeared on NBC Sports Philadelphia
We can't tell you who the Eagles are going to draft later this month.
We can tell you how to figure out who they might draft.
If you look closely enough, you can see some pretty clear trends in Howie Roseman's draft philosophy. Doesn't mean he's going to follow them this year, but it is interesting to break down his 11 drafts – 2010 through 2014 and 2016 through 2021 – to see how he thinks and what's worked for him and what hasn't.
Some of these trends pre-date Roseman's tenure as general manager, which isn't surprising since he first joined the Eagles' front office in 2000 and had an office down the hall from Andy Reid for 13 years. So their philosophies about building from the two lines are definitely intertwined.
A few of these trends are disturbing. Some are encouraging. All are intriguing and give us a sense of what we might see when the Eagles are on the clock April 28-30.
LOADING UP ON OFFENSE: In Roseman's first three drafts, six of the seven players he selected in the first two rounds were on the defensive side of the ball. Since then, 12 of 15 have been on the offensive side of the ball, including all eight since 2018. It almost completely stopped taking offensive players after the Fireman Danny debacle. The Eagles haven't drafted a defensive player in the first two rounds since Derek Barnett and Sidney Jones in 2017.
SECOND-ROUND FOCUS: More specifically, Roseman has only drafted one defensive player in the second round since 2013 – that was Jones in 2017. The others are Zach Ertz, Jordan Matthews, Dallas Goedert, J.J. Arcega-Whiteside, Miles Sanders, Jalen Hurts and Landon Dickerson. With the exception of JJAW, that's very good 2nd-round production. The Eagles' last five 2nd-round picks have been on offense. In fact, JJAW is the only player the Eagles have taken in the 2nd round since Jaiquawn Jarrett in 2011 that didn't become at least a functional NFL starter.
BUILDING FROM THE LINES: this goes back way before Roseman became GM and back even before Reid became head coach, but it's definitely notable: Of the Eagles' 31 first-round picks since 1987, 12 have been defensive linemen and nine have been offensive linemen. That's 21 of the last 31 first-round picks going back 3 ½ decades devoted to the offensive and defensive lines. Nearly 70 percent. The other 10 have been wide receivers [5], quarterbacks [2], corners [2] or tight ends [1]. Under Roseman, seven out of 10 first-round picks have been linemen – all but Carson Wentz, Jalen Reagor and DeVonta Smith. So over the last 35 drafts, 26 of 31 Eagles 1st-round picks have been linemen or receivers.
GOING DEFENSE IN 3RD ROUND: The third round has been largely reserved for defensive players under Roseman. Starting with Stewart Bradley in 2007, nine of the Eagles' 12 3rd-round picks have been defensive players, the only exceptions being Nick Foles, Josh Huff and Isaac Seumalo.
POSITIONAL DROUGHTS: We all know the Eagles haven't taken a linebacker in the first round since Jerry Robinson in 1979, but linebacker isn't the only position they don't like drafting in the first round. The Eagles haven't taken a first-round running back since Keith Byars in 1986, a tight end since Keith Jackson in 1988 and a corner since Lito Sheppard in 2002, and they've never drafted a safety in the 1st round. Every Roseman first-round pick has been a lineman, receiver or QB. Over the last 31 years, the Eagles have drafted 28 players in the first round. Only one wasn't a lineman, receiver or QB. That's Sheppard in 2002.
THE ROARING '20S: Draft picks in the 20s have been a disaster for the Eagles not just under Roseman but really going back 30 years. The Eagles have drafted 10 players between picks 20 and 29 since 1993, and among that group are Nelson Agholor [20], Jalen Reagor [21], Andre Dillard [22], Danny Watkins [23], Leonard Renfro [25], Jon Harris [25], Freddie Mitchell [25] and Marcus Smith [26]. The only elite players the Eagles have drafted during that span in the 20s were Jeremy Maclin and Sheppard in 2002, although Jermane Mayberry became a Pro Bowl guard later in his career, and Nelly made up for most of his with a monster Super Bowl.
Subscribe to the Eagle Eye podcast
Apple Podcasts | Google Play | Spotify | Stitcher | Art19 | Watch on YouTube
WORTH WAITING FOR: Roseman's track record in the 7th round is actually shockingly good. Jordan Poyer was an all-pro corner for the Bills this past year, Kurt Coleman had 21 interceptions in a 10-year career, Jalen Mills started for a Super Bowl champion, Jordan Mailata is a future Pro Bowl left tackle and guys like Bryce Brown, Joe Walker, Beau Allen and Jamar Chaney all played in the league at least four years. If only he could draft like that in the 1st round.
MISERABLE FOURTH ROUNDS: The 4th round, on the other hand, has been a nightmare. None of Roseman's 16 4th-round picks started more than 30 games in an Eagles uniform, and 11 of the 16 started six or fewer games. Although things have improved the last few years with Josh Sweat and Avonte Maddox in 2018 and Jack Driscoll in 2020, take a look at Roseman's first 10 4th-round picks as Eagles GM: Trevard Lindley, Keenan Clayton, Clay Harbor, Mike Kafka, Alex Henery, Casey Matthews, Brandon Boykin, Matt Barkley, Jaylen Watkins and Mack Hollins. The last offensive Pro Bowler the Eagles drafted in the 4th round was Sonny Jurgensen in 1957.
GETTING IT RIGHT AT TIGHT END: Second-round picks Zach Ertz and Dallas Goedert are the only tight ends the Eagles have drafted over the last decade – in any round. That means they've only used two of their last 86 picks over 11 years on tight ends. The Titans are the only other NFL team that's only drafted two tight ends since 2011.
Copyright RSN