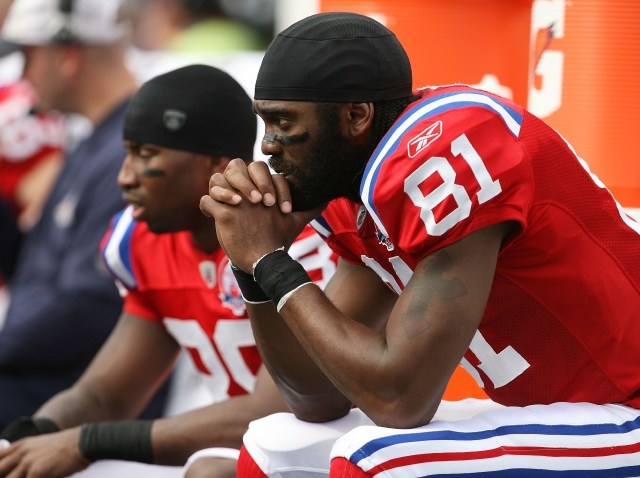 One of the NFL's most mercurial players is heading back to the place where his impressive career first began.
The New England Patriots sent future Hall of Fame wide receiver Randy Moss to the Minnesota Vikings for a third round drafft pick in a hastily cobbled deal that heated up the rumor mill in the hours before its confirmation, according to ESPN.
ESPN Page 2 columnist Bill Simmons errantly sent a missive that simply said "moss vikings" out to his 1.2 million followers Tuesday evening, instead of sending it as direct message, a private communication in Twitter terms.
He followed up later in the evening with an explanation.
"Sorry that last tweet was supposed to be a DM. Rumors swirling about a Pats-Minny trade for Randy Moss," he wrote.
Moss, a seven-time Pro Bowl receiver, is in the final year of his contract with the Patriots and recently voiced his displeasure at not having a new deal.
"When you have done so much and put so much work in, it kind of feels like I'm not wanted," Moss said shortly before the season started. "I am taking that in stride and playing my final year out and whatever the future holds is what it holds, but it is kind of a bad feeling -- feeling not wanted. It is not like my production has gone down."
The rtrade could immediately alter the fortunes of both franchises. Though the Vikings were able to coax Brett Favre back for one more season, they have been lacking an aerial attack ever since Pro Bowl wideout Sidney Rice had hip surgery on Aug. 24. He is currently on the league's physically unable to perform (PUP) list, meaning he has to miss at least the first six weeks of play. Favre's other main target, Percy Harvin, suffered severe migraines throughout training camp and has yet to get in sync with the veteran gunslinger. A trade for disgruntled Chargers wide receiver Vincent Jackson fell apart because of differences over compensation between the two teams.
The trade leaves the Pats with a gaping hole at one of the team's most important positions. Wes Welker is quarterback Tom Brady's favorite target, but he lacks Moss' size and speed and is coming off a serious knee injury. Rookie Brandon Tate will likely line up opposite Welker after the Patriots return to action following a bye this week.
Moss and Brady quickly formed one of the NFL's most feared tandems upon the receiver's arrival in Foxboro in 2007. The two connected for 47 touchdowns and over 3,750 yards of offense.