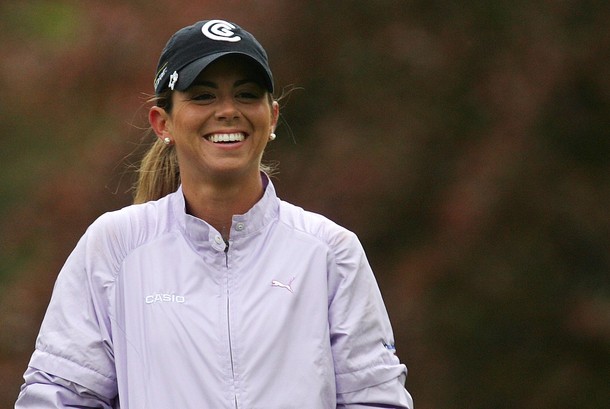 Golf pro Erica Blasberg took her own life in May, and cops are on the hunt for a doctor who allegedly removed a note and other items from the scene, a Nevada coroner has said.
The Clark County coroner's office told The Associated Press Tuesday that the 25-year-old U.S. LPGA golfer died of suicide due to asphyxia, coupled with the presence of toxic levels of prescription medication in her system, including prescription headache, cough, pain and anti-anxiety medications.
Blasberg was found with a plastic bag over her head May 9 in her home about 15 miles southeast of the Las Vegas Strip.
The Henderson Police Department said it concluded an extensive investigation on Tuesday and determined there was no foul play.
But cops did issue an arrest warrant for the doctor who called 911 after finding Blasberg at home. Thomas Hess will be charged with obstruction of justice for allegedly removing pills and a note from the scene, according to People mag.
"Hess admitted to removing a note indicating Ms. Blasberg had taken her own life," the Coroner's office told People in a statement on Tuesday. "He hid it in his vehicle along with prescription medications taken from her house."
In his 911 call, Hess told an emergency responder that he knew Blasberg from "the golf club," and had arrived at her house after noticing "she sounded intoxicated" when he called about a tournament, according to People.
A police spokeswoman did not comment to the magazine on the pair's relationship.
Selected Reading: People, The Associated Press

Copyright AP - Associated Press