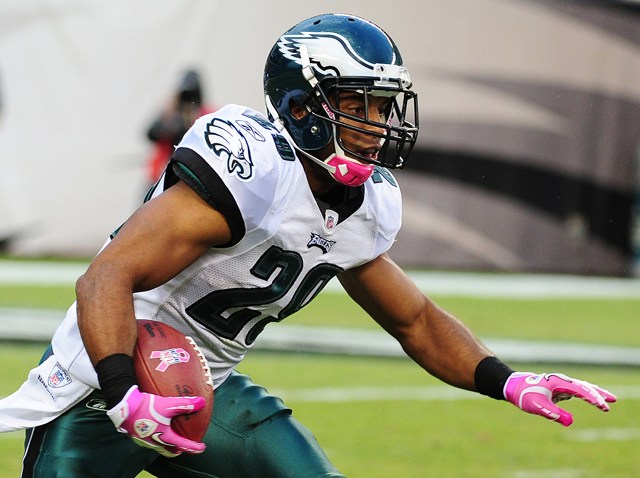 Before the season there was plenty of idle speculation about the Eagles first round pick, Brandon Graham, and whether he might capture the defensive rookie of the year award. Unfortunately, while Graham has shown tremendous promise, he hasn't been any kind of immediately dominant force.
However, much more quietly, the Eagles second round pick, Nate Allen, has proven he deserves to be in the conversation for best defensive rookie — if not the best rookie safety in recent NFL history.
You might be shocked by this statement. Has Allen really been that good? Actually, through the first five weeks, he's put up disruptive numbers that match or better almost every other rookie safety of the last 30 years.
Let's break it down category by category.
Interceptions: Allen already has three picks to his name. If he continues this pace, he'd get close to 10 interceptions for the season — matching Mark Carrier's total with the 1990 Bears and surpassing the Bills' Jarius Byrd's most recent high of 9 picks by a rookie safety.
Pass Defensed: Part of a safety's job is to not only pick off passes, but also break up completions. Rookies at the position often have trouble recognizing routes and responsibilities fast enough to get over and help out their fellow defensive backs. But Allen's had no trouble there. He's on pace for over 19 passes defensed this year, beating the previous high of 15 by the late Redskin Sean Taylor in 2004.
Sacks: Sean McDermott has surprisingly used Allen a lot to rush the passer. More surprisingly, the rookie's been a great blitzer. While he only has one sack so far, if he gets to three for the year — certainly possible — that would give him the third highest number of sacks for a rookie safety since 1980.
Allen's certainly not a Pro Bowl-caliber player after less than a half a season of football. But he's proven that he can more hold his own at a difficult position and cause lots of disruption for opposing offenses in the process.
While we may never forget the contributions of another Eagles free safety, Allen's tremendous start signals that we may have finally found a player to carry Brian Dawkins's traditions well into the next decade.