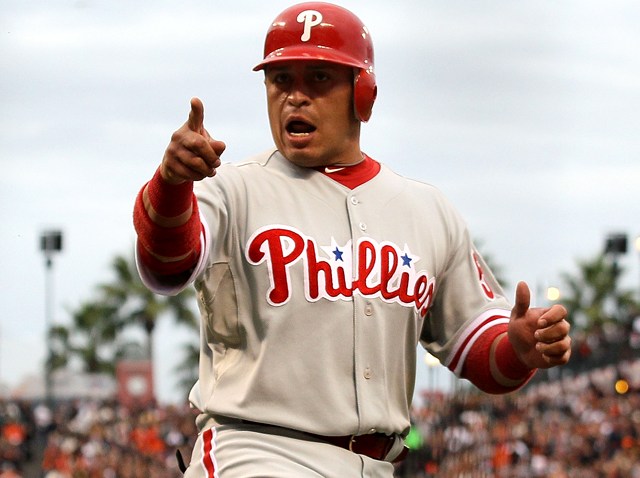 As part of a weeklong series, the bloggers of Philthy Stuff will be explaining their favorite guys in red pinstripes.
---
Sometime late last season, I was trying to come up with an appropriate way to describe what Carlos "Chooch" Ruiz brought to the Phightins. He was aggressive at the plate. Clutch. He could crush the other team with one swing of the bat. He was the Aggressosaurus of Clutchitude, if you will.
We all remember his walk-off double off Jonathan Broxton last August, and his huge bases loaded hit in Game 3 of the 2008 World Series but Chooch has played the role of the most underrated catcher in baseball since his rookie season in 2007.
In his first three full seasons with the Phillies, Ruiz was batting .245, and averaged 83 hits and 43 RBIs in 339 games. Among MLB catchers with a minimum 330 plate appearances, his batting average ranked 15th in 2007, 23rd in 2008, and 13th in 2009. In 2010, he boasted a career high and team leading .302 batting average and .400 on-base percentage.
He may not be immune to the Phillies' offensive woes of late, but when it comes to Chooch, it usually what he's doing behind the plate rather than at it that catches everyone's attention -- especially Roy Halladay and the pitching staff.
It's been said more than once that Doc neglected to shake off Chooch during some of his biggest outtings, including his perfect game. When the team honored Halladay for perfection, Doc honored Chooch by presenting him with a watch engraved with the phrase "we did it together."
Similarly, Chooch and Cliff Lee had the same type of chemistry after his momentous start against the Washington Nationals. For nine innings, two hours, and less than 100 pitches, Lee did not shake Chooch off while he mowed down the Nats, striking out 12.
Doc did a great job summing it up in his recent MLB 2K11 commerical: "Every perfect game needs a Carlos Ruiz."
If you ask me, every Phillies game needs a Carlos Ruiz.