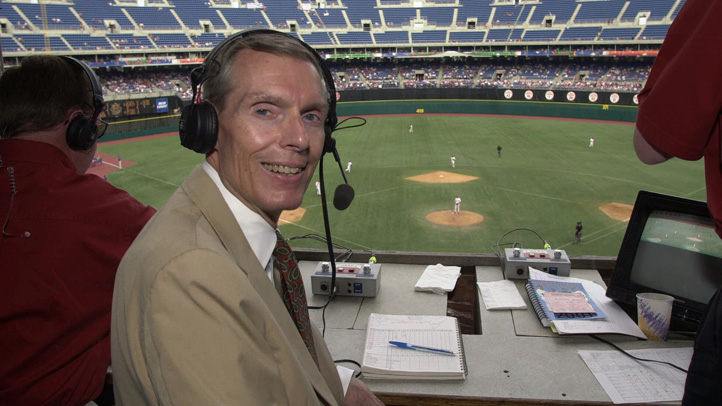 Andy Musser, a sports announcer for 45 years and Phillies broadcaster for more than a quarter-century, died Sunday. He was 74.
Musser's son, Allan, of Roswell, Ga., said his father died Sunday evening at his home in Wynnewood, Pa.
"Our thoughts and prayers go out to Andy's family, especially his wife Eun Joo, his son Allan and his daughter Luanne," said Phillies President David Montgomery.
"Andy was a dear friend to many, an absolute gentleman, and a true professional. I had the pleasure of working with him for 26 years during which time he made a significant contribution to our club. Additionally, along with thousands of Philadelphia sports fans, I admired his versatility in announcing not only Phillies games but also his work with the Eagles, Sixers and Villanova Basketball. Since leaving the Phillies broadcast booth in 2001, Andy remained close to the club. We will all miss our dear friend."
Musser worked throughout his tenure aside Hall of Fame broadcaster Harry Kalas. He missed only two games for health reasons when laryngitis kept him out of the broadcast booth.
Musser, a native of Lemoyne, Pa. at one point did play-by-play for the Sixers and Eagles as well. He also announced two World Series, two Super Bowls and the Masters.
Musser, a Syracuse University graduate, also spent time at WCAU on both the radio and television sides from 1965 to 1971, according to Si.com.
CSNPhilly.com's Ray Didinger had many found memories of the announcer he remembers as "down to earth and easy to approach."
Besides his work as a broadcaster, Musser also served two years with the U.S. Army in South Korea, according to his obituary.
Burial will be private. A public memorial service will be held on Tuesday Jan. 31 at 11 a.m. in the Sanctuary of Bryn Mawr Presbyterian Church, 625 Montgomery Ave., Bryn Mawr, Pa. 19010.
Musser is survived by his wife of 50 years, two children and four grandchildren.
Copyright AP - Associated Press