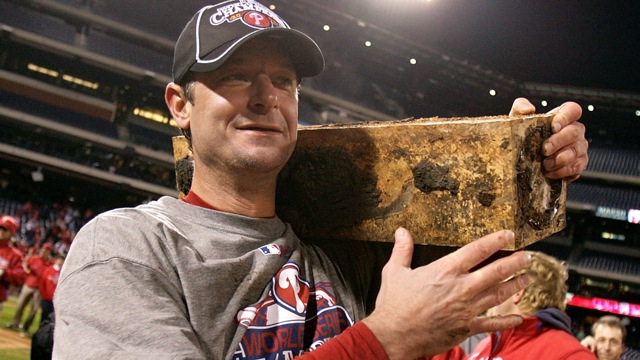 It looks like former Phillie Jamie Moyer isn't done quite yet.
Things looked over for the 49-year-old junkballer after the Rockies released him about a week ago after he went 2-5 with a 5.70 ERA. But on Wednesday, Moyer possibly got another shot at breaking his own "oldest to do _____" records when the Orioles inked the lefty to a minor-league deal.
The Orioles tweeted the signing Wednesday afternoon:
The Orioles have agreed to terms with LHP Jamie Moyer on a minor league contract. He is scheduled to start Saturday at Buffalo.
Moyer is baseball's active leader in wins (269), strikeouts (2,441), innings pitched (4074) and games started (638). With him only inking a minor-league deal, there is no guarantee that he will add to those totals but with the Orioles struggling recently as they dropped into a tie for the lead in the American League East and with a pitching staff that ranks 23rd in baseball in quality starts (26), it's possible that Moyer could get his chance to show the young Baltimore pitcher's a thing or two.
This is Moyer's second stint with the Orioles organization -- he went 25-22 with a 4.41 ERA in 75 games for the Birds from 1993 to 1995.