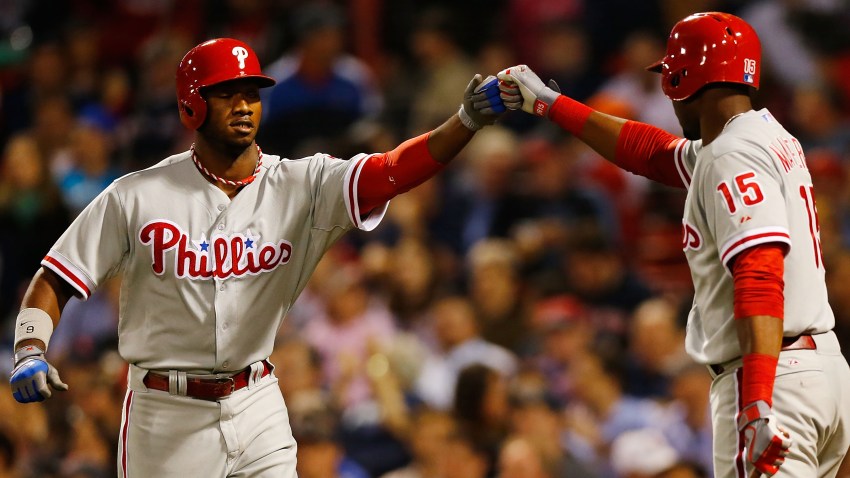 Earlier, we talked about Charlie Manuel's decision to mix up the batting order as a way to try to get more out of the lineup that has proven to be one of the worst in the game. And through two games, the results are mixed. On Monday night, the new-look Phillies put 11 hits and three runs on the board, but lost. They had nearly an identical performance on Tuesday (nine hits, three runs), but were able to walk away with the win, due almost entirely to Cliff Lee's masterful pitching.

It will take time to fully evaluate the changes to determine if they were at all fruitful, but the fact remains that the lineup is going to continue to be inconsistent, regardless of how it is structured, mostly because the Phillies have a poorly constructed roster. When it comes down to it, you can't get blood from a stone, and this team is like a quarry. All the lineup changes in the world won't turn a mediocre-at-best lineup into a world beater. Sad to say, but the 2013 Phillies are not, and will never be, the 2007 Phillies.

That said, that doesn't mean that Charlie Manuel shouldn't continue to tinker with the lineup if it means getting more production – however slight – out of his team. While he doesn't have a ton of options, there is one glaringly obvious improvement that can, and should, be implemented: move Domonic Brown out of the six-hole.

I've long sang the praises of Brown, who is now finally starting to realize his potential as a big leaguer. Following a great spring, the 25-year-old outfielder has not only earned a starting role in the lineup, but is also leading the Phillies in home runs (10), RBIs (30), and in slugging (.481).

And I like that Charlie Manuel is starting to mix things up – albeit by necessity thanks to the absence of Chase Utley – because it demonstrates an ability to adapt (something that he hasn't been great at in the past), but it seems like he is pulling the wrong levers in this instance. Maybe moving Jimmy Rollins down and Ben Revere up is a good idea, but by leaving Brown where he is, Manuel is only succeeding in wasting his power.

Because Brown is often coming to the plate without any runners on base, his power is being completely underutilized. In 183 at-bats this season, 106 of them have occurred with no one on base. That has translated to his home runs, as seven of the 11 have been solo shots. The biggest reason for this, it would seem, is that the two batters ahead of him in the lineup aren't getting on base. Ryan Howard, forever of the cleanup spot, has a .290 on-base percentage. Behind him is Delmon Young, who is even worse with a .282 OBP. It's fairly obvious, but you should want to have guys on base when your best power threat comes to the plate.

Brown's home run in the eighth inning of Monday night's game against the Red Sox was the first non-solo homer he has hit since he hit a three-run homer on April 27. Oddly enough, it was Delmon Young who was on base when he broke that streak.

The solution (aside from cutting Delmon Young in favor of an actual right-fielder and moving Ryan Howard out of the cleanup spot) is to move Domonic Brown up in the lineup so that he can bat in a spot where he is more likely to have runners on ahead of him. The most logical move would be to slide him up to the three-hole, with some combination of Ben Revere (.300 OBP), Jimmy Rollins (.307), Michael Young (.350), and when he returns, Chase Utley (.339) hitting ahead of him. While the difference between Revere and Howard might not be that great, the fact remains that Brown and the Phillies will have more opportunities to take advantage of his power with men on base.

Will the opportunities be that much better? Probably not, because this team isn't full of guys who can get on base at a .400 clip, so this might be a moot point. But it's less about who Dom can hit behind, and more about management's ability to make necessary changes, even if the benefit is small. Charlie Manuel has already shown a willingness to move longtime leadoff hitter Jimmy Rollins around in the order if it means helping the team. Will he be willing to do the same with Domonic Brown?