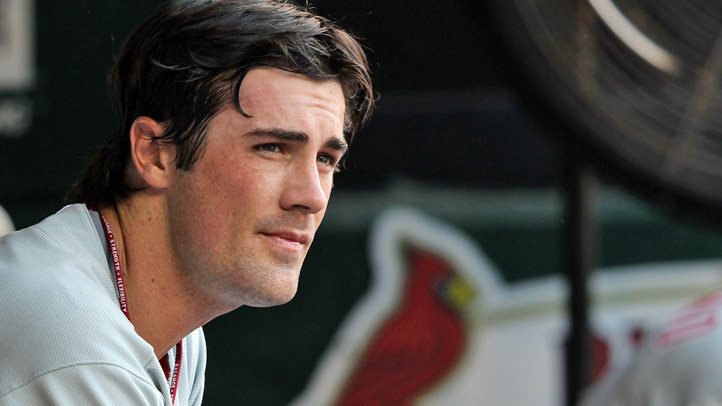 It's another day at the Winter Meetings, which means more rumors and rumblings about some of our favorite players. While the focus has mostly been on Jimmy Rollins' contract, the focus has recently shifted to today's trade-bait de jour, Gio Gonzalez, who was once a pitcher in the Phillies system, before being to the Chicago White Sox in exchange for Freddy Garcia.
At first, the notion of trading for another starting pitcher seems rather redundant, because the Phillies seem to be all full up of solid starting pitchers. Unless, of course, one of them was to get traded. It sounds crazy, but Ruben Amaro has a track record of trading Aces when we least expect it.
If that seems like a bizarre idea, that's because it is. Why would the Phillies want to trade their best offensive prospect (after refusing to trade him for Roy Halladay) for a good, but not great, starting pitcher, especially when they have incredible starting pitching depth?
Well, according to
Ken Rosenthal of Fox Sports
, it's because they might need to fill a hole that gets left from trading Cole Hamels if they are unable to sign him to a long-term contract, which essentially makes Gonzalez a sort of Plan B.
It would be a terrible situation for the Phillies and their fans if they were forced to deal Hamels, and it's not a move that would be greeted with any sort of adulation. For more on this, I'll turn it over to Corey Seidman of PhilliesNation.com,
who weighed in on this earlier today
:
This isn't a move Ruben Amaro would want to make… but the hope here is that he decides it's one he doesn't have to make. Hamels is due a large payday by this time next year, a deal that will range from $95-$120 million on the low side.

…

The only problems are that a) Gonzalez isn't and will likely never be on Hamels' level, and b) if the Phils trade for Gonzalez, teams will know they have to trade Hamels and therefore the Phils won't get proper value for one of the top-seven pitchers in the game.
This is, in a nutshell, why I despise baseball's winter meetings and the MLB rumor mill. A lot of these suggestions are unsubstantiated, and tend to come from a place of pure speculation. To be fair, Ken Rosenthal is a great baseball writer, and it seems like he is just spitballing and trying to fill in some blanks and provide some context for why certain teams could be in on Gonzalez, but, like Corey said, let's all hope that this is a trade that Ruben Amaro doesn't have to make.