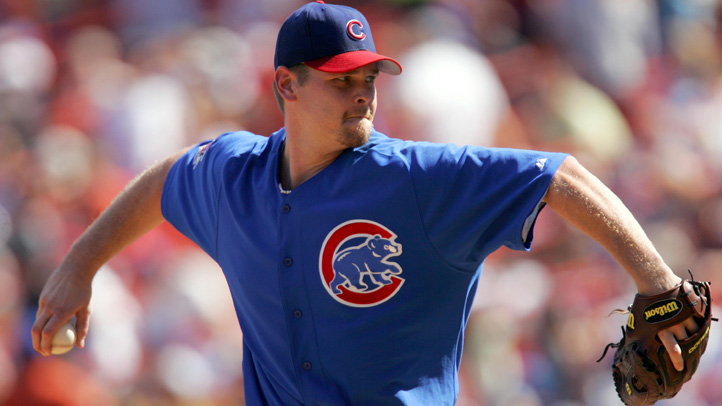 The veteran could find himself in the Phillies bullpen in 2012.
When Jimmy Rollins inked his contract extension last month, it signaled the end of the shopping season for Ruben Amaro and the Phillies front office. Coupled with the Jonathan Papelbon deal that kicked off the start of free agency, the Phillies have more or less addressed the most pressing issues for the team as they head into 2012.
But that's not going to prevent the team from kicking the tires on veteran players and low-cost additions, such as relief pitcher Kerry Wood, who the Phillies have an interest in, according to ESPN's Jerry Crasnick.
Wood, perhaps best known for striking out an MLB-record 20 batters in his fifth career start in 1998, was the Ace of the Chicago Cubs in the early part of the last decade. Following a series of arm injuries, the right-handed pitcher found new life when he moved to the bullpen in 2007, where he has since been a mainstay for the Cubs, Cleveland Indians, and New York Yankees.
He's had a fair amount of success since moving to the 'pen, where, in five seasons as a reliever, Wood has a 3.49 ERA and 63 in 242 innings, where he struck out batters at a rate of 10.3 per nine innings.
Wood is the kind of reliever that Amaro has shown a proclivity for going after, as he is a veteran with a high upside that would simultaneously come at low cost. And as Crasnick said, the odds of Wood joining the Phillies are dependent on how the team feels about Jose Contreras, who missed most of last season due to season-ending surgery on his shoulder.
At first glance, a buy-low offer for a solid back-end reliever wouldn't be a terrible idea, as a bullpen can never be deep enough. And with the 2012 bullpen looking like it will consist of several young arms, like Michael Stutes, Justin De Fratus and Antonio Bastardo, having an additional veteran presence like Wood couldn't hurt.