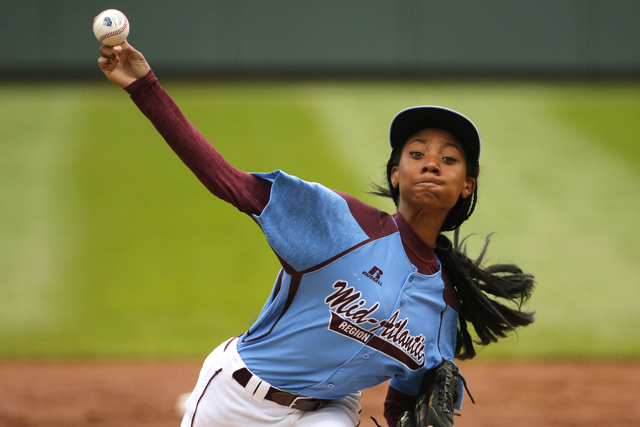 Mo'ne Davis, the 13-year-old girl who's become baseball's breakout star, has become the first Little League player ever to make the national cover of Sports Illustrated.
Not that the Philadelphia eighth-grader needs any more firsts under her belt — not with her blinding 70 mph fastball, and certainly not with the Series shutout she threw last week, making her the first girl ever to throw a shutout in Little League World Series history.
Remember Her Name! #LLWS2014 sensation @Monedavis11 is on this week's national cover http://t.co/LAwVgubpCS pic.twitter.com/sENsPMF7ew — Sports Illustrated (@SInow) August 19, 2014
Mo'ne, an honor roll student at Springside Chestnut Hill Academy, has helped make her team the Taney Dragons the first Little League team from Philadelphia ever to advance to the Series in South Williamsport, Pennsylvania.
But Mo'ne's sports goals extend far beyond baseball.
"To be honest, I never thought I'd be famous for baseball," she told Sports Illustrated. "I want to play basketball, and I could also do both basketball and baseball — but I really want to play basketball."
She one day hopes to play basketball for the University of Connecticut on a full scholarship, preferably as the point guard for the Huskies. Her mother Lakeisha McLean says she's confident her daughter can do it.
"When Mo'ne says she's gonna do it, she's gonna do it," McLean said.
Mo'ne will take the mound Wednesday in Las Vegas when the Taney Dragons take on the only other undefeated team in the Series, the Mountain Ridge team from Las Vegas.
--David Chang contributed additional reporting.