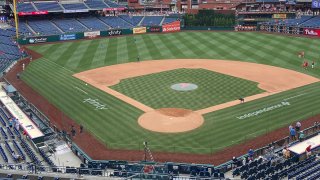 Wednesday night's scheduled game between the Phillies and Washington Nationals at Citizens Bank Park was postponed because of a rash of positive COVID-19 tests on the Washington side.
The game will be made up as part of a single-admission doubleheader Thursday at 12:05 p.m. Only tickets for Thursday's regularly scheduled game will be honored, the Phillies said.
Washington manager Dave Martinez said there were 12 positive tests among Nationals personnel. Four of those positives belonged to players, the rest to staff members. Some of those who tested positive had been vaccinated for COVID-19, according to Martinez. He said only a couple personnel were symptomatic and those symptoms were mild.
Though the Nationals reached an 85 percent vaccination rate among Tier 1 personnel – players, coaches, staff and regular members of the traveling party – back in May, they tested their entire group on Wednesday after shortstop Trea Turner had tested positive on Tuesday.
Major League Baseball made the call to postpone the game because of the amount of positive tests and the need to perform contact tracing. 
The Nationals will go through rapid testing before Thursday's doubleheader. Martinez said he was confident the doubleheader would be played.
Zack Wheeler and Vince Velasquez are the Phillies' scheduled pitchers for the doubleheader. The team has not announced which order they would pitch.