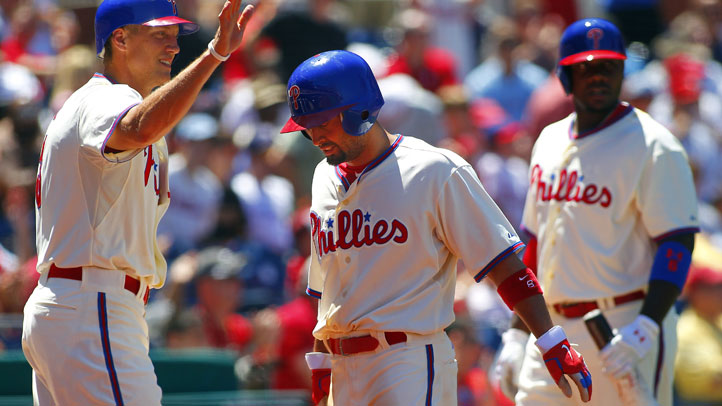 It's no secret that Phillies center fielder Shane Victorino is on the trading block. The free-agent-to-be outfielder hasn't had a good year, either on the field or in the dugout, really. But here's something interesting: the Reds reportedly already turned down a deal for Victorino that would've provided bullpen help to the Phillies.
That's according to Paul Daughtery of the Cincinnati Enquirer (via our NBC bros at Hardball Talk) who writes that the Reds turned down a straight-up deal to acquire Victorino for Logan Ondrusek, a 26-year-old right-handed reliever.
Jim Bowden of Sirius XM reported Wednesday that the Phils are shopping Victorino for bullpen help, so this possibility certainly jives with that, along with the general idea of Shane being on the block.
Two things are odd here: 1) the Reds turned that down?, and 2) the Phils aren't asking for a whole lot in exchange for Victorino are they?
If you don't know Ondrusek's name and/or statline off the top of your head, well, you're not alone. He's in his third year in the majors, he's sporting a 2.70 ERA in 36.2 innings and he's struck out 25 guys in that span while walking 19. Aroldis Chapman he is not -- Ondrusek is like maybe the fourth-best reliever in the Reds bullpen.
Those are decent stats, but for a guy with the offensive upside -- and relative contractual ease -- of Victorino, it's pretty surprising that the Reds wouldn't pull that trigger.
Perhaps it's something involving paying Shane's salary this year; the Phils might've been looking to dump the rest of his deal and maybe the Reds didn't want to pay it.
Or maybe this is simply the market for Victorino. He is a slumping outfielder in a contract season after all. If that's the case, unless the Phils get an offer that's tough to resist, they should just sit pat on Victorino, hope he can break out of his slump and recoup a draft pick when he turns down their qualifying offer.