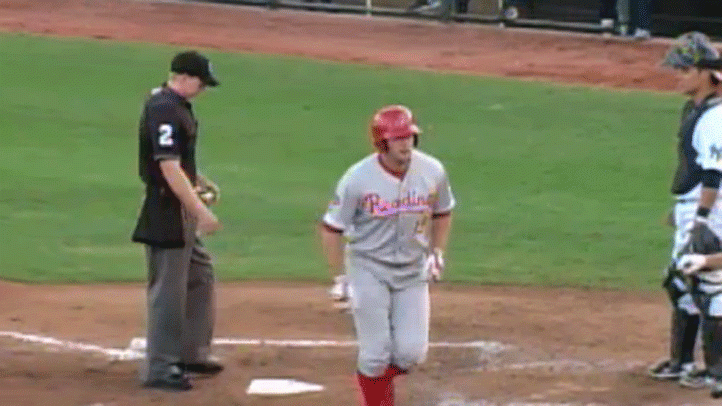 What if I told you there was a player in the Phillies' minor league who has 29 homers and an OPS at an even 1.000? What if I told you he hits right handed and a legitimate power threat? What if I told you he was 26-years-old? And what if I told you that he has a snowball's chance in Hawaii of getting called up by the Phillies?

Believe it, because it's true. His name is Darin Ruf, and all he's done in his minor league career is mash. Through four seasons and five minor league levels with the Phillies organization, Ruf has accumulated a line of .304/.384/.509 line with 58 homers and 133 doubles in 439 games. Currently, with the Double A Reading Phillies, Ruf has 29 homers and 80 RBIs through 120 games.

So what gives? Why can't the Phillies, who are aging and without any sort of minor league depth, use him? Wouldn't he be a perfect fit on this team right now?

In a perfect world, yes. But in this world? Probably not. Let's talk about why.

First, and perhaps most important, he's 26-years-old, and he is playing in Double A, where is is destroying the ball in every sense of the word. While that sort of offensive output is nice to see, the fact remains that he is a bit too old for that level. In fact, he's been a bit too old for every level that he's been at. While the level of play in Double A is much better than anything else he has faced so far, the fact remains that he is roughly 3-4 years older than most of the guys there. That might not seem like a big deal, but just imagine how badly your 16-year-old self would beat your 13-year-old self at dodgeball. Those years are significant.

Maybe the Phillies didn't accurately assess him when they drafted him, and thus, he's made it look relatively easy, but the fact remains that he is going toe-to-toe with guys who are much younger than him. And that matters.

Even if he wasn't too old for Double A, he doesn't really have a place to play. A first baseman by trade, Ruf is blocked by Ryan Howard and his contract. Plus, he's a big-bodied dude who likely lacks the mobility to play anywhere else on a daily basis. Despite that, the Phillies have tried him around the diamond over the course of his professional career, with some time at third base (three games), and bit more in left field (26 games). Having not personally witnessed his ability in left, I can't say with any degree of certainty how good (or bad) he is, but it doesn't look too promising. Just ask Kevin Goldstein of Baseball Prospectus, who probably knows more about minor league baseball than anyone else. Not such a good outlook on Ruf's defensive acumen.

And finally, the Phillies have seen this sort of thing before. Specifically, last season, when a Double A first baseman by the name of Matt Rizzotti was crushing everything in sight, with 24 homers and a .903 OPS. Like Ruf, he was 26, and not a sharp defender. Knowing this, the Phillies traded him to the Minnesota Twins for practically nothing, where he was released shortly into the 2012 season.

Is Ruf going to have the same career trajectory? Maybe, maybe not. It appears that he is somewhat mobile, so it is possible that he could have a career as a left fielder if he can get enough reps in. However, even if he can successfully transition to the outfield, whose to say that his bat will be good enough at the Major League level? Hitting at the big leagues is really difficult for a young player (just don't ask Mike Trout), and it would be ridiculous to expect him to produce at a similar level with the Phillies.

That said, I think they should call him up and see what he can do. At this point in the season, they really have nothing to lose. Even though the Wild Card is still within reach, there will never be a better time to see what someone like Ruf can do at the big league level. He might continue his assault on pitching with the big club, or he might hang around the Mendoza Line while playing such poor outfield defense that a literal black hole forms in left field. Either way, it'd be entertaining, and that's just about all we have to hold onto this season.