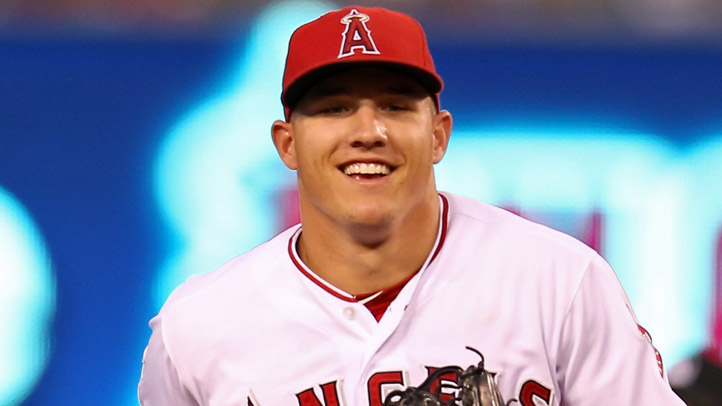 A South Jersey kid is taking the baseball world by storm this season and this week his place in American sports history was cemented with a magazine cover story.
Millville, N.J.'s Mike Trout graces the cover of this week's Sports Illustrated with the headline "The Supernatural."
The 21-year-old (that's not a typo) is a favorite to win the American League Rookie of the Year and in serious consideration for the MVP Award thanks to his impressive stats including AL-leads in runs (97), steals (39), batting average (.343), slugging (.603) and OPS (1.010) for the Angels this season.
Author Tom Verducci writes in SI, "There never has been a position player this good this young."
The Boston Globe possibly summed up the phenom's meteoric, and historic, rise best:
When he hit his 20th homer Aug. 2, Trout became the youngest player in MLB history to record 20 homers and 30 stolen bases and joined a select group of players who homered on their 21st birthday, including Ted Williams (1939), Frank Robinson (1956), Alex Rodriguez (1996), and Jason Heyward (2010).
That's some impressive company, something that isn't lost in Trout's hometown where pirde in the Millville product is at a fever pitch.
In Cumberland County the magazine with Trout's face on it was quickly flying off the shelves.
Per the Vineland Daily Journal:
Some newsstands already are sold out of the magazine, while others are scrambling to meet the high demand.

"I've already had between 15 to 20 people either call or come in and ask about the magazine," said Sal Del Buono, owner of Country News Agency on Wheat Road in Vineland. "Normally I only get between four or five copies, but I'm tying to get an extra 15 or so. I just have to keep my fingers crossed."
---
Get the latest from NBC10 Philadelphia anytime: Android/iPhone/iPad Apps | SMS Alerts | Twitter | Facebook | Google+ | Instagram | RSS