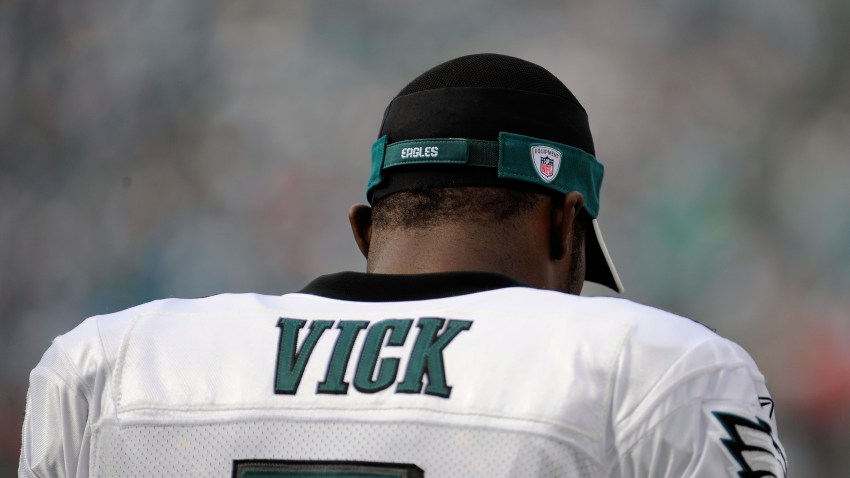 In a world in which the Bears, Chiefs and Steelers are the NFL's only unbeaten teams, it only makes sense that Michael Vick has one of the hottest-selling jersey in the NFL.
Just three years after becoming the first NFL player in history to have sales of his merchandise banned by the league -- and Reebok actually credited retailers for canceled orders -- Michael Vick is seeing a lot more of himself in the stands and on the streets, according to CNBC and how America works:
Retailers in the Philadelphia area have placed big orders for Vick's jersey...

"Certainly after coach Reid declared him the starter and offered his vote of confidence, demand and sales escalated and we did bring in more (jerseys) to meet customer needs," said Jed Berger, senior vice president of marketing for Modell's Sporting Goods, which brought Eagles No. 7 jerseys into its stores in Pennsylvania, Delaware and New Jersey.

...On NFLShop.com, a fan can even personalize an Eagles dog jersey with the No. 7 on it.
Well. You've come a long way baby, and by that we mean the NFL. You can't even get "Breast Lover" on a jersey, but your dog can rep Mike Vick. The O.J. Simpson reissue no one wants is probably coming shortly, so long as it doesn't love boobs.
One chain that didn't love Mike Vick was Dick's Sporting Goods, who declined to carry no. 7 jerseys when Vick signed with the Eagles last season. It was less a statement of condemnation, and more that execs at Dick's believed Vick merch wouldn't sell.
According to CNBC, two Philly-area Dick's are now telling customers his jersey will arrive by week's end. Better fetch them while you can.