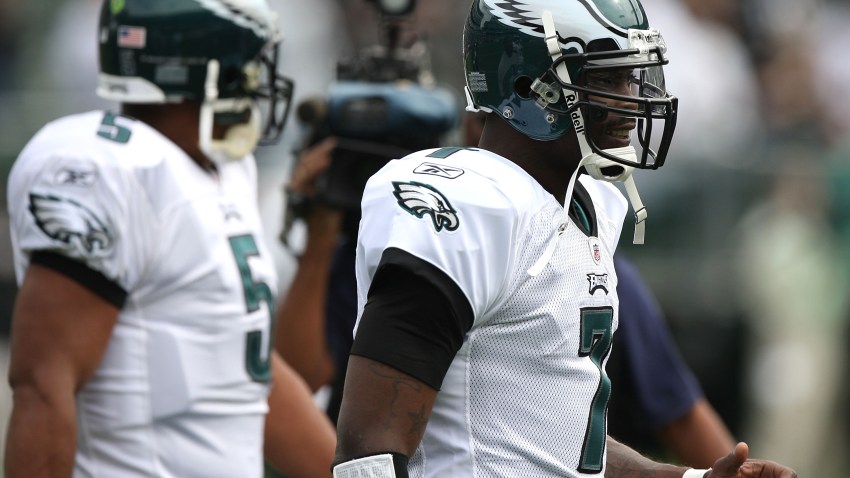 With the Eagles traveling to Washington to face the Donovan McNabb-led (for now) Redskins on Monday, it was ironic to see such a McNabb-esque performance yesterday from Michael Vick.
The quarterback threw almost 30 times, completing just below 60 percent of his passes, executing in the short game and launching deep bombs like few other players can. He took a few sacks, but also was masterful at evading the rush in the backfield to extend the play and find receivers down field. He refused to make a big interception mistake, and even broke free of the containment a few times to get big first downs with his legs.
In a game where Andy Reid largely abandoned the Wildcat package and option running plays due to concerns about Vick re-injuring his ribs, we saw what a few years back would have been a typical great game from McNabb -- only now we're getting it from #7 rather than #5.
The truth about 2010 was supposed to be about how the offense would change as McNabb was traded and a quarterback with different skills, Kevin Kolb, ascended. Yet with Vick under center, the team has returned to its comfort zone offense, just in time for the stretch run.
None of the Eagles' final eight games will be easy victories, especially with an offensive line that remains leaky, an inconsistent running game, and injury concerns (most recently at safety). But if Vick can keep channeling a younger version of McNabb, rather than his own youth in Atlanta, there's no reason he can't lead this team on a run, starting next week against his predecessor in Washington.