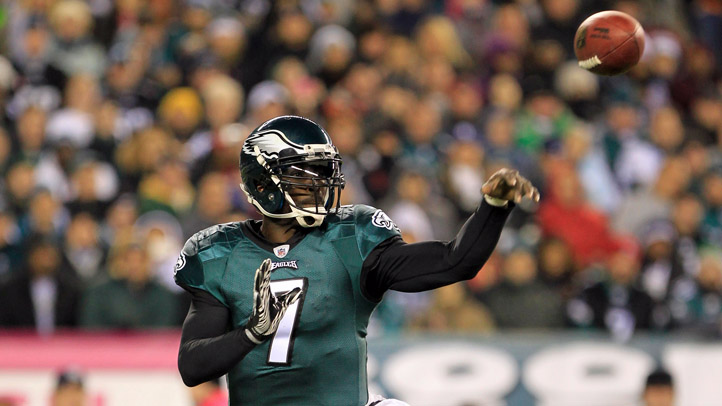 The hits keep on coming for the Philadelphia Eagles. Head coach Andy Reid revealed Monday in his weekly press conference that quarterback Michael Vick suffered "a couple broken ribs" in Sunday's loss to Arizona, later saying they were two ribs on his lower left side. "It's too soon to say whether he'll be able to play Sunday night," Reid added. The loss dropped the Eagles to 3-5 on the season.
"It probably had something to do with it," Reid said when asked about Vick's inaccuracy in the loss. Vick finished the game 16-34 with 128 yards, two interceptions and no touchdowns. Vick suffered a concussion in week 2 at Atlanta and a broken hand in week 3 at home against the New York Giants.
Reid also addressed DeSean Jackson being benched and inactive after missing a team meeting Saturday, saying "I think he learned from this." He also said that Jackson remains a starting wide receiver for the team.
When asked whether his job might be in jeopardy, Reid responded "No, I'm just concerned with the Giants," who the Eagles play this week on Sunday Night Football on NBC.