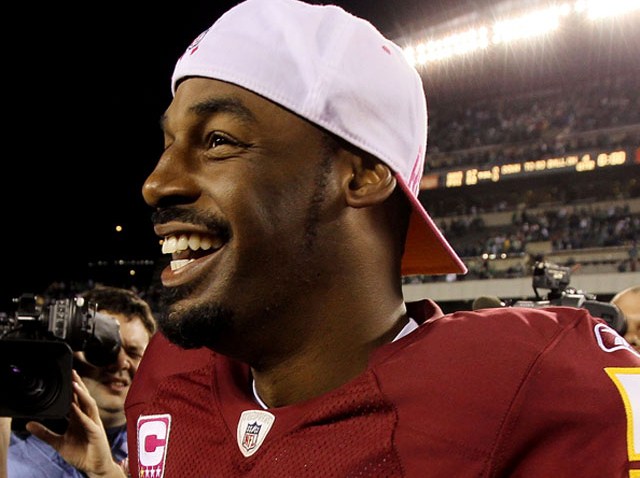 Just in time for Monday Night Football it looks like Donovan McNabb's future is much more certain than it was after he was benched in the Redskins last game.
Maybe this will put to rest any speculation about McNabb's future as quarterback of the Washington Redskins: The team reached a five-year deal with McNabb before the Redskins lost 59-28 to the Eagles, ESPN.com first reported.
A source told ESPN NFL Insider Michael Smith the $78 million extension could be worth up to $88 million with incentives.
But the deal might not even be worth the repoted $40 million.
"Sources tell me although Mcnabb signed a 5-year $78M deal ($88M with incentives) he may not even get the $40M reported guaranteed," tweeted 610-WIP's Howard Eskin.
McNabb, who turns 34 later this month, is the Eagles all-time leader in many passing categories and led the Birds to five NFC championship games in eight seasons. He was dispatched to the rival Skins for some draft picks this past Easter Sunday.
D-Mac might have won his first match up against his former team when the Skins beat the Birds 17-12 in early October but in his first season in D.C. McNabb hasn't really impressed and the final straw was his benching two weeks ago in the Skins loss to the Lions.
But that played no role in getting a deal done now.
"Once the regular season started, we really were aiming toward the bye week, and it came together," Redskins general manager Bruce Allen told the AP. "I think coach and myself said that Donovan's going to be here from the beginning and Donovan has been real clear in his intent of being a Redskin. So I think it just puts an exclamation point on it."
With teams like Arizona, Minnesota and possibly Oakland likely looking for QBs in the off-season, McNabb could have likely been a hot commodity on the free agent market despite his mediocre season.
ProFootballTalk.com's Gregg Rosenthal sums up the shocking news and also possibilities that the deal looks bigger than it really is:
As always, we'll wait to see the contractual details before knowing the full story. The final years of the contract are likely meaningless, and we've often seen that "guaranteed" money is often anything but when you look closer.
With that out of the way, this clearly a serious and stunning financial commitment from the Redskins. McNabb will surely be locked in Washington through the 2011 season at a minimum.

McNabb is being paid like a superstar, but he hasn't played like one. This contract is a bet that he's going to improve his play drastically in Mike Shanahan's offense because he's been league average at best so far. We have our doubts McNabb can life the Redskins beyond mediocrity.

We don't have to wait long to evaluate Dan Snyder's latest investment.
D-Mac has a 76 QB rating while passing for 1,971 yards, seven TDs and eight interception.
And after McNabb's 295-yard, two-TD and thee-interception performance against his former team one of his longtime critics came out of the woodwork to take a shot at the deal.
"How do u justify a 78 million dollar contract w/this type of performance?" tweeted former Eagles WR Terrell Owens.