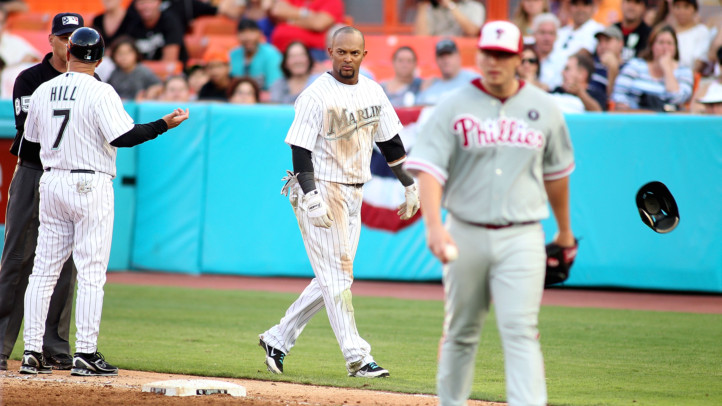 If you happened to miss last night's Phillies-Marlins game because you were too busy lighting stuff on fire in your backyard, you missed yourself quite a barnburner. Vance Worley tossed seven shutout innings, and the Phillies scored the game's only run late to eke out a 1-0 win. But Marlins manager Jack McKeon didn't think Phillies outfielder Domonic Brown (so close to being named Demonic, no?), actually touched the plate when he scored on a Michael Martinez single in the seventh. From the Miami Herald:


The game was scoreless until the seventh when Michael Martinez singled to center and Brown tried to beat the throw home by Bryan Petersen. Replays showed that Brown's foot might have been in the air — above the plate — when Buck applied the tag.

"I thought we had 'em," said pitcher Ricky Nolasco, who was backing up the throw. "It looked like we got him."

Buck thought so, too.

So did McKeon.

"When you only score one run and that's tainted, you kind of think both clubs' pitchers did an outstanding job," McKeon said.


McKeon quickly added that the Marlins more than earned the loss in other areas, but that didn't keep him from smarting over the call. To add insult, two Marlins - Emilio Bonifacio and John Buck – were ejected during the course of the festivities last night after arguing with the umpires about two legitimately questionable calls. And McKeon rightfully complained that players shouldn't be ejected for arguing with umpires when they feel like the umps made a real mistake. You can't complain to an ump about ANYTHING, which stands in diametric opposition to the NFL, where a head coach can scream at a ref for three hours straight and not hear a word back. I've never understood that double standard, and I never will.

The loss plunges the Marlins even deeper into the NL East cellar on a day when the Herald reports the Marlins didn't get back to Miami until 4AM after a three-city road swing. So while you enjoy this Phillies season where everything seems to be going right, when the team seems as charmed as it's ever been, do take care to note that for every destiny's child, there has to be a snake-bitten team to go with it.