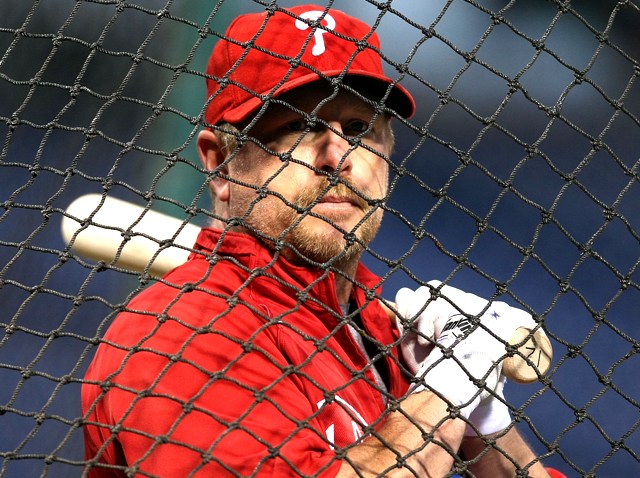 Baseball bid farewell to one of it's cult heroes on Wednesday, when former Phillie and long-time slugger Matt Stairs hung up his cleats for the last time, as he announced his retirement from the game of baseball following career that spanned 19 seasons and an amazing 13 teams.
From the Montreal Gazette:

On Wednesday, two days after he was released by the Washington Nationals, the Saint John, N.B., native told CBC.ca that although he has yet to make his retirement official, he is stepping away from the game.
"I'm not sad. I had a great career, a long career," Stairs, 43, told the website. "It's one of those things where I can walk away today and not be sad about it."
Stairs, who looked more like a beer league softball player than a Major Leaguer, is best known to Philadelphians as the hefty slugger who was part of the World Series winning 2008 team. His biggest moment as a Phillie, and perhaps his career, came on October 13, 2008 when he launched a moon shot home run off Jonathan Broxton in Game 4 of of the NLCS. His homer, which transformed Stairs from a part-time player and pinch hitter, capped a come-from-behind rally against the Los Angeles Dodgers that all but sent the Phillies to the World Series.
In his one-plus season spent with the Phillies, Stairs belted seven home runs to go along with 22 RBIs. He didn't spend a ton of time plying his slugging trade in Philadelphia, but he more than made up for that with one memorable home run in and a parade a few weeks later.
He will forever be fondly remembered by the citizens of Philadelphia, and by Phillies fans worldwide. Thanks for the memories, Matt.