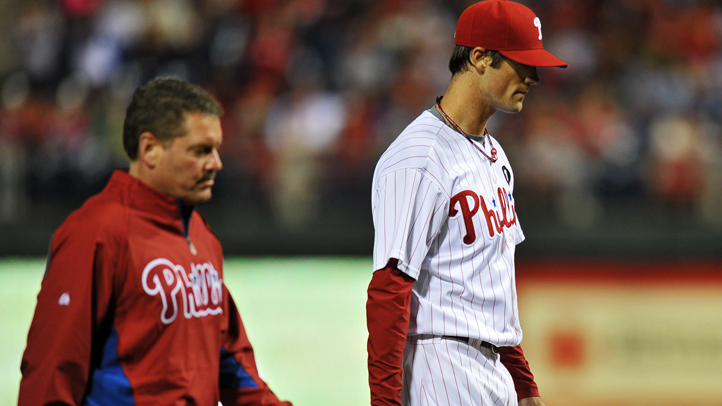 Jason Vargas tossed a three-hitter for his second shutout of the season, outdueling Philadelphia left-hander Cole Hamels to lead the Seattle Mariners to a 2-0 win over the Phillies on Sunday.

Vargas (5-4) not only kept pace with Hamels, he exceeded and outlasted him in his third career complete game. He allowed just two singles and six base-runners. After a two-out walk to Carlos Ruiz in the fourth, he retired the next 15 straight batters until Ryan Howard's two-out single in the ninth. Ben Francisco then flied out to end it.

The Mariners now have eight shutouts on the season. It was the fifth time the Phillies have been shut out. It's also the fifth time they have been held to three hits or fewer.

Hamels (9-3) was denied his chance at becoming the first pitcher in the Majors to reach 10 wins. It also ended his career-best five-game win streak. He gave up two runs on seven hits in 6 1-3 innings. He struck out six and walked none.

Hamels, third in the NL in ERA coming in at 2.49, allowed just two two-out singles through the first five innings.

The Mariners finally rallied rather innocently off him in the sixth. Ichiro Suzuki reached on a bad-hop single off first baseman Howard with one out. Suzuki broke for second on Brendan Ryan's left-side groundout, preventing a possible double play and giving the Mariners their first runner to reach second.

Justin Smoak then took a mighty swing but got under the ball, blooping it just over shortstop Jimmy Rollin's reach into shallow left. Suzuki scored easily.

The Mariners added another run in the seventh. Dustin Ackley, who made his big-league debut Friday, tripled to lead off the inning. With the infield in, Franklin Gutierrez bounced out to shortstop with Ackley holding. Pinch-hitter Adam Kennedy then dropped in a RBI single at the feet of left-fielder Michael
Martinez.

That was Hamels' final pitch.

The Mariners had to scramble to keep the Phillies off the scoreboard in the first. After Vargas struck out Chase Utley to seemingly end the inning, the Phils got a break when Miguel Olivo let the ball get through his legs and Utley reached first. Ryan Howard then singled to center before Vargas threw a wild pitch, allowing both runners to advance.

Ben Francisco then lofted a ball into shallow left center. Left fielder Greg Halman ran a long way and caught it on a slide.

In the fourth, the Phillies had a threat with runners on first and second and one out. Raul Ibanez lined out to third baseman Chone Figgins, who quickly threw across the diamond to double up Ruiz at first.