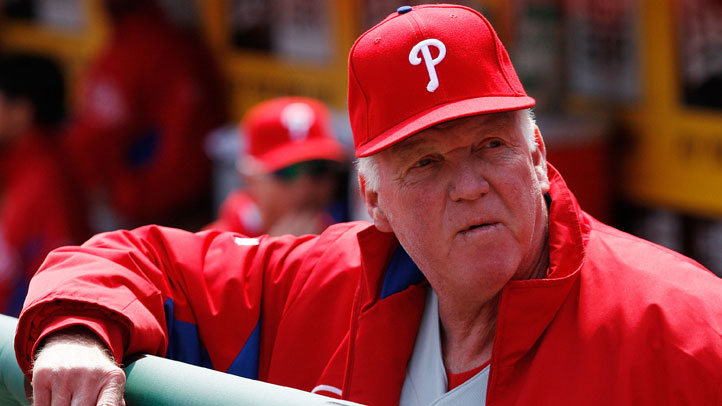 Following the low point of the Phillies 2012 season -- a 10-6 loss to the Mets that saw the bullpen blow another lead and sent the Phightins reeling into the basement of the National League East thanks to New York handing them an awkward, dirty broom -- Charlie Manuel called a closed-door meeting with his team.
This is good because it's supposed to serve as a rallying point for the team. But it's pointless because the Phils flaws lie deeper than just getting the team motivated; screaming at everyone with the doors closed doesn't fix the problems inherent in Philly.
According to Jordan Raanan of CSNPhilly.com, Manuel "unloaded on his club" Wednesday night, apparently chastising them for "everything, from the shoddy execution to the lackadaisical approach."
"It's the whole thing, the whole environment of how we've been doing," Manuel said. "I've been sitting here watching for 31 games -- how we've gone about things. How we get ready for the game, how we play.
"We've got to get better. The whole game. We've got to execute better and we've got to pitch better and definitely hit better."
But, um, how? By being really mean and screaming and stuff? The players can talk about how great the meeting was (and they did), but is yelling loudly going to inject some youth into the batting order? Hunter Pence is 29 and he's the second-youngest player in the starting lineup. Carlos Ruiz and Ty Wigginton -- 77 years old combined and not exactly "big-name" guys -- are first and fourth, respectively, in OPS+ for the Phillies.
Second and third? Pence and Juan Pierre. It doesn't matter how loudly Cholly screams or how red he gets in the face, he's not going to make this lineup score a pile of runs. It's not possible.
But the Phillies could win with pitching ... if they could hold a lead. All five of their starters have an above average ERA on the season so far, with Roy Halladay finishing last amongst Phillies starters with a 114 ERA+.
Yes, that's right: Roy Freaking Halladay has the highest ERA of anyone in the Phillies rotation, at 3.28. Of course, the Phillies are still giving up 4.09 runs per game, which means that the bullpen's been the culprit.
This is not breaking news: both Dash and I talked about Manuel's struggles and the misuse of the bullpen in recent days.
And the lack of offense isn't breaking news either (the Phils are scoring just 3.81 runs per game). The Phillies, simply put, aren't that good on offense or in the bullpen. No amount of screaming is going to change that.