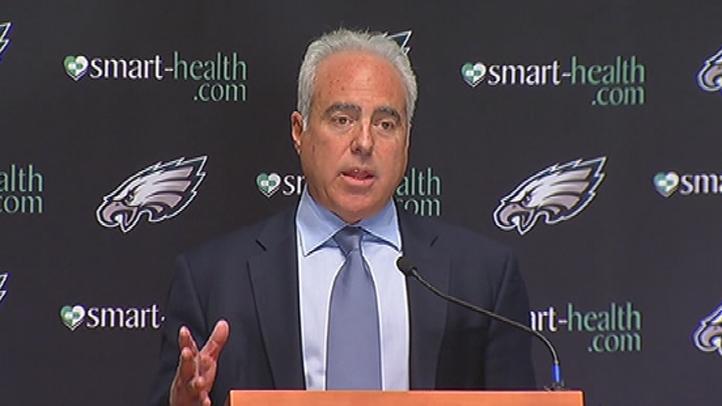 It's no secret that most Eagles fans are sick to death of Andy Reid and would gladly pay upwards of $20 (that's a lot of money) to see him fired on the spot. But Eagles owner Jeffrey Lurie, ever the loyal fellow, took time out yesterday to defend Reid with the kind of "we know better than you" attitude that the Eagles have thrown at fans now for over a decade.
"Since 2008, there's only been one team that made the playoffs more than the Eagles and that's the Ravens. Then you go back to 2006, no team has made the playoffs in the NFC more than the Eagles."


And you know who hasn't been to a Super Bowl during that same stretch? The Eagles, who somehow failed to advance past the NFC title game while six different NFC teams were able to pull it off. This is the problem with Andy Reid: He wins jusssst enough to lose when it matters.
"The intangibles, though, are the overriding factor for me."


Oh, you mean things like, "Does the team appear to be well prepared?" (NO), "Does the team look like it knows what it's doing?" (NO), or "Does this team manage the clock wisely?" (NO) Or do you mean meaningless drivel like, "He tries real hard and players seem to tolerate him?" Because that last one shouldn't count for anything.
"Andy Reid to me not only has the love of the players and their respect, but he also has the fire in his belly to be the best. That's another intangible."


That's worthless. You know what other NFL coach has the fire in his belly to be the best? ALL OF THEM. Every last one. I challenge you to find an NFL head coach who is like, "Eh, I don't really feel like being the best today, you guys." NOT POSSIBLE.
"...there's no doubt in my mind if our focus is on trying to win a championship next year, the best coach for that is Andy."


Then what was the focus on THIS season? Was it not on trying to win a championship? Brad Wilson of the Express Times expertly pointed out that Lurie took care to explain everything the organization did wrong this season (which, by definition, means all the things REID did wrong), and then absolved Reid of pretty much everything.

Listen, I understand the desire for continuity. Plenty of teams fire coaches too hastily and find themselves endlessly searching for the right guy (see: Redskins). But Eagles fans haven't been hasty in wanting Reid fired. They've been living with him for YEARS. They've seen enough to know that Reid's shortcomings as a head coach are never going to go away. There is a time for trying something new, for seeking out fresh ideas. Anyone who says the Eagles shouldn't fire Reid because there isn't a better coach available out there is just too lazy to go looking for a good candidate. Lurie took a chance on Reid a very long time ago. It's time he took a chance on someone else.