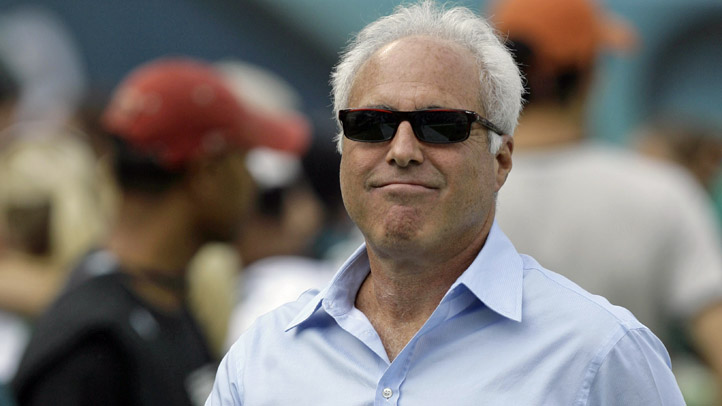 Eagles brass often faces the ire of Birds fans frustrated by years of getting close but never winning a Super Bowl.
But from an outsiders point of view the Eagles could be doing a better job than the majority of the NFL.
Eagles owner Jeffrey Lurie was ranked No. 5 in ESPN.com's "Power Ranking: Top 10 NFL Owners."
He is also the highest-rated owner to not win the Super Bowl.
Lurie got the fifth-place nod on the poll of ESPN football experts but they didn't explain why he placed ahead of other owners like Jim Irsay (Colts), Steve Bisciotti (Ravens) and Jerry Jones (Cowboys).
I'm sure that beating Jones' Cowboys feels good to Eagles fans but Eagles fans would much rather have beaten top owners Dan and Art Rooney II of the Steelers.
"By any definition, Dan Rooney and Art Rooney II qualify as powerful," writes ESPN.com's Tim Graham.
Graham goes on to explain that the Rooney exemplify three major attributes – winning, being transcendent (thanks to the elder Rooney being named the ambassador to Ireland) and being influential such as with the "Rooney Rule."
OK, I get why Patriots owner Robert Kraft, Packers ownership and the Giants ownership round out the Top 5. They all meet the ESPN criteria in some ways -- they've all won Super Bowls -- and each group influences the NFL in their own way (i.e. the Packers public ownership policy and Kraft leading a team with a no apologies policy on personnel moves).
But, outside of giving Mike Vick a second chance (transcendental), I don't believe Lurie is in the same ballpark. Heck, I think you could easily argue that Jones -- the controversial owner of the Cowboys -- is more powerful than Lurie because he influences the league (building the new Cowboys Stadium) and has won Super Bowls.
OK I'll admit that Lurie could possibly influence other owners to go green with new stadium initiatives and that he was amongst a list of owners who power played local and state municipalities into forking over millions so that his team could get a new shiny stadium but without a Lombardi Trophy I don't he can ever be as powerful as ESPN says he is.
And the biggest surprise could be the consistency that ESPN voted for Lurie -- he was fifth on five ballots and no lower than eighth on the other three.
It's hard for Eagles fans to take comfort in having the "most powerful" owner never to win a Super Bowl.
What do you think? Is Lurie worthy of powerful praise?